Viacom to Support Courageous Youth Activists Who Have Had #Enough of Gun Violence
Viacom to Support Courageous Youth Activists Who Have Had #Enough of Gun Violence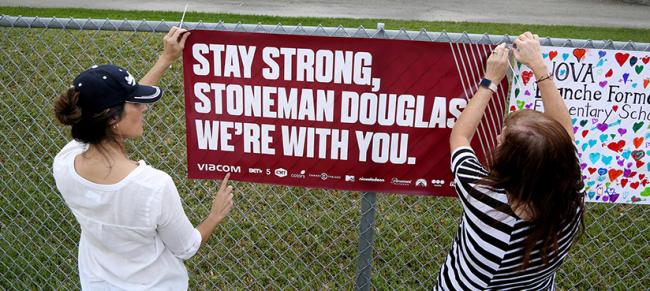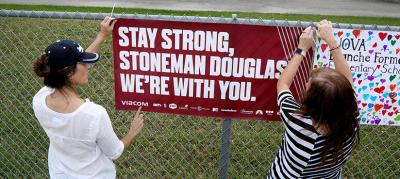 Tuesday, March 13, 2018 - 4:00pm
In the weeks since a gunman claimed 17 lives at Marjory Stoneman Douglas High School in Parkland, Florida, courageous young people have marched and raised their voices to demand action on gun violence in the United States. They have had #enough.
Viacom and its brands have a long history of supporting young people's movements around the world, and today the company is extending that tradition by leveraging its substantial multi-platform footprint to support these extraordinary individuals and amplify the reach and impact of their activism.
This series of efforts across MTV, BET, Nickelodeon, Paramount Network, Comedy Central, TV Land, CMT and other properties will include partnerships with a coalition of organizations and students that are working to make America's schools safer and reduce gun violence.
In addition, Shari Redstone, Vice Chair of Viacom's Board, is personally championing the work of the student activists, contributing time and resources, including a $500,000 donation, to the March For Our Lives movement.
"This generation continues to be the driving force for change," said Viacom Executive Vice President of Global Inclusion Marva Smalls. "With more than 17 young people dying from gun violence every single day, unfortunately no community is safe. We believe it's critical to support the inspiring efforts of our youth, who are literally fighting for their lives. Viacom also has a responsibility to our audiences to do everything we can to elevate the many brave and bold activists to help them extend the reach and impact of their voices in this important movement."
Here's a sampling of the initiatives that Viacom brands have planned for the weeks ahead:
A pause to remember the victims
At 10 a.m. on Wednesday, March 14, all Viacom networks and platforms will suspend regularly scheduled programming for 17 minutes. This pause will coincide with the National School Walkout, an #enough-driven tribute to the 17 lives lost in the Parkland shooting, and to all young victims of gun violence. Students across the country will take over MTV's social media accounts during the walkout.
The Power of Viacom's united brands support a march on Washington
Viacom's brands will drive awareness of the March For Our Lives petition through extensive on-air and digital coverage, as well as on-the-ground initiatives, leading up to the March For Our Lives demonstration in Washington, D.C. on March 24. MTV and Comedy Central will change the color of their logos to orange – in support of gun violence awareness – for the 10 days leading up to the event. The Daily Show with Trevor Noah plans to continue its ongoing coverage of the growing anti-gun violence movement in the country. So will The Opposition w/ Jordan Klepper, which will build on its recent interviews with students from Marjory Stoneman Douglas High School as well as educators and former military officials on arming teachers, and the 2017 special he produced, Jordan Klepper Solves Guns. Paramount Network will capture powerful first-person accounts for its pro-social initiative. Nickelodeon's Kids' Choice Awards, which airs that night, will acknowledge the march for its audience of millions.
Supporting efforts to reduce gun violence
Viacom networks have begun an array of ongoing initiatives aimed at curbing gun violence over the long term. For example, MTV has set up a website where people can learn how to take further action, BET will award DISARM pop-up grants to youth activists with innovative ideas about addressing gun violence and mental health issues, and CMT will work with the country music industry on its efforts to support gun safety.
Joining gun safety leaders to drive change
Viacom is partnering with organizations across the spectrum to develop gun safety-related projects for Viacommunity Day, Viacom's annual day of community service, on April 20.
Get Schooled expands its curriculum
Get Schooled, an organization founded through a partnership between Viacom and the Bill & Melinda Gates Foundation, will expand its efforts to educate young people on the actions they can take to participate in the national discussion.
*On average, 19.4 young people aged 24 and under die by gun violence every day. Source – Everytown analysis: CDC Fatal Injury Reports (WISQARS), data for 2012-2016.
About Viacom
Viacom is home to premier global media brands that create compelling television programs, motion pictures, short-form content, apps, games, consumer products, social media experiences, and other entertainment content for audiences in more than 180 countries. Viacom's media networks, including Nickelodeon, Comedy Central, MTV, VH1, Spike, BET, CMT, TV Land, Nick at Nite, Nick Jr., Logo, Nicktoons, TeenNick, Channel 5 (UK), Telefe (Argentina) and Paramount Channel, reach over 3.9 billion cumulative television subscribers worldwide. Paramount Pictures is a major global producer and distributor of filmed entertainment.
For more information about Viacom and its businesses, visit www.viacom.com. Keep up with Viacom news by following Viacom's blog at blog.viacom.com and Twitter feed at www.twitter.com/viacom.