VIDEO | Boyle Column: Paul Endry Retains Optimism Despite Accident, Paralysis
VIDEO | Boyle Column: Paul Endry Retains Optimism Despite Accident, Paralysis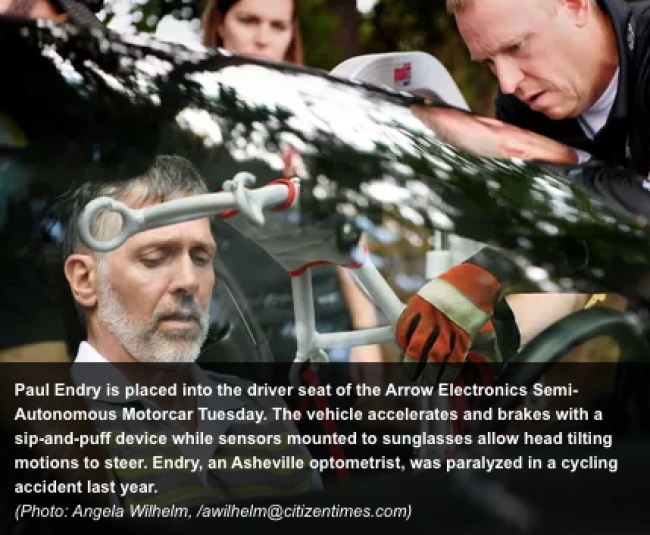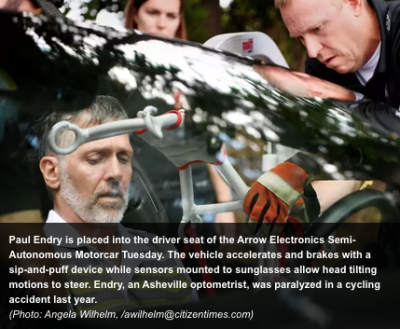 tweet me:
Paul Endry, paralyzed in a 2017 cycling accident, recently had a chance to drive the @ArrowGlobal SAM Car: http://bit.ly/2P8dwQU #ArrowDriven #FiveYearsOut
Summary
Sometimes a major burnout — especially one fueled by a 900-horsepower Corvette race car — is just good for the soul.
Judging by the smile on Paul Endry's face Tuesday afternoon after he launched into a couple of high-octane doughnuts in the former Sears parking lot at Asheville Mall, it was a home run in the soul-stimulation department.
Thursday, August 16, 2018 - 11:50am
by John Boyle, Asheville Citizen Times
On April 2, 2017, Endry, an optometrist in Asheville for over three decades, had his own encounter with a life-altering accident, one that also left him mostly paralyzed from the shoulders down. Tuesday was the first time since his accident that Endry has driven a car — the SAM car is operated solely by head movements, with puffs or sips of air controlling acceleration and braking, and head turns tracked by special glasses steering the vehicle.
Read the full article and watch the video on Citizen-Times.com.
More From Arrow Electronics
Friday, November 13, 2020 - 9:50am
Wednesday, November 4, 2020 - 3:00pm
Monday, October 26, 2020 - 10:00am