Tzeporah Berman on COP25
Tzeporah Berman on COP25
tweet me:
This week on @SeaChangeRadio - @Tzeporah Berman of @StandEarth talks about the failures of #COP25 https://www.cchange.net/2019/12/17/cop25/
Multimedia from this Release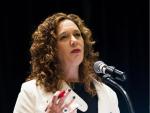 Tuesday, December 17, 2019 - 5:20pm
Those who attended the 25th annual United Nations Climate Change Conference, or COP25 in Madrid this past week were hopeful that it would deepen the commitment of the world's largest greenhouse gas-emitting nations to fighting climate change. Unfortunately, attendees left Spain disappointed. This week on Sea Change Radio, we speak to Tzeporah Berman, the international program manager for Stand.earth who attended the conference. Berman provides insight into why the conference broke down, what it means for the climate change movement, and how the 2020 US election will influence next year's summit in Glasgow, Scotland.