Truist Foundation President Reflects on 2020 and Shares Outlook for Future
Truist Foundation President Reflects on 2020 and Shares Outlook for Future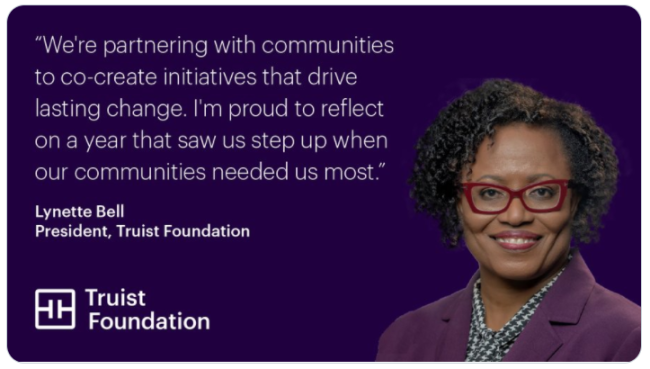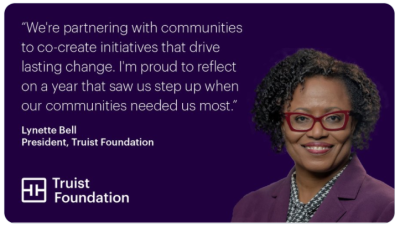 tweet me:
The #TruistFoundation launched a year ago as an expression of the commitment of @TruistNews to inspire & build better lives & communities. https://bit.ly/30wRrCu
Friday, March 12, 2021 - 9:25am
In 2020, we launched the Truist Foundation as an expression of Truist's commitment to inspire and build better lives and communities.
We couldn't expect the upheaval that would define our founding year. Two weeks after we introduced the foundation, the COVID-19 pandemic began. Shortly thereafter, cries for social justice and racial equity shook the country.
As our team worked to define the Truist Foundation's vision, we knew we wanted to do things differently and with humanity and grace. I'm proud to reflect on a year that saw us step up when our communities needed us most. The Truist Foundation distributed $79.7 million through high-impact grants to foster upward economic mobility for all. And 58% of those grants went to organizations led by people of color. During the onset of the COVID-19 pandemic, Truist was among the first financial institutions to spring into action with our $50 million Truist Cares* initiative.
In a year full of impact, what I'm most proud of is that the foundation is not just writing checks. We're partnering with communities to co-create initiatives that drive lasting change. CornerSquare Community Capital and Purpose Built Communities are great examples.
As I look toward the future, I know partnerships like these will help us redefine what it means to inspire and build better lives and communities. And we'll rethink the boundaries, create an impact, and fuel change.
Lynette Bell
President
Truist Foundation
*Truist Cares is a cooperative effort between Truist Financial Corporation, Truist Foundation, Inc., and Truist Charitable Fund to provide communities, organizations and individuals disaster relief and assistance during the COVID-19 crisis.
More From Truist
Monday, May 10, 2021 - 1:10pm
Friday, May 7, 2021 - 11:35am
Tuesday, May 4, 2021 - 9:05am