Towards More and Better Reporting
Towards More and Better Reporting
GRI's annual report is 'most accessible and transparent ever'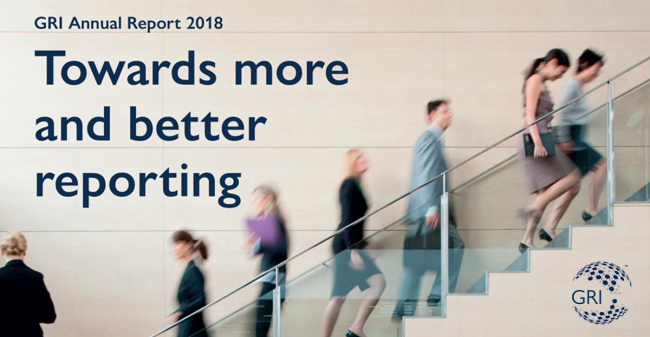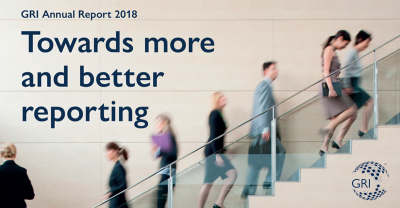 tweet me:
Annual report from GRI_Secretariat leads by example - showcasing how #sustainabilityreporting can be presented online, with data made accessible and in a way that's easy to understand, using GRI's freely-available Digital Reporting Tool http://bit.ly/2GawRy3
Friday, July 12, 2019 - 9:15am
July 12, 2019 /3BL Media/ - GRI has demonstrated its commitment to increasing and improving the tools available to support sustainability report preparers, as showcased in its latest annual report.
In GRI's 'Towards more and better reporting' 2018 Annual Report, the organization demonstrates how to navigate the challenge of analyzing and accessing data, which can often be locked in to reports, by presenting it in a compelling way.
The 2018 annual report leads by example by making information as accessible as possible and is publishing online in a double format. Firstly, a highlights magazine covers the most important engagements, programs and projects; and secondly, the full report has been produced using GRI's Digital Reporting Tool.
GRI Chief External Affairs Officer Peter Paul van de Wijs said:
"Through our global engagements and the regular feedback we receive from customers, partners and stakeholders, we know that GRI's most material topics relate to how we demonstrate our impact on the world. That is why our 2018 Annual Report has been produced in a dual format that is easy to understand and simple to navigate, delivering detailed information in accordance with the GRI Standards."
GRI's freely available and customizable Digital Reporting Tool can be used by any reporting organization as a one-stop-shop for mapping information needs, facilitating the collection of data, and presenting the report within an easy to use interface.
Van de Wijs added:
"Sustainability disclosures needs to present usable and understandable data that meets the expectations of all stakeholders, including investors and analysts. As the leading authority on reporting, we will continue to innovate and make reporting better. Clearly explaining the material issues and providing information in an accessible online format has resulted in the GRI 2018 annual report being our most accessible and transparent yet."
Notes to editors
View GRI's 2018 Annual Report highlights magazine, and the report data in full.
Any organization working on their sustainability report can access GRI's Digital Reporting Tool free of charge to systematize the data. The publishing tool can be used by report preparers to input the final information that they want to publish for their selected disclosures.
Organizations interested in sustainability data digitalization and management can also join GRI's Corporate Leadership Group on Digital Reporting.
Global Reporting Initiative (GRI) is an independent international organization, based in Amsterdam with a presence around the world, that helps businesses, governments and other organizations understand and communicate their sustainability impacts. The GRI Standards is the world's most widely used sustainability reporting framework.
Contact:  Tom Whittles – GRI Senior Media Relations Manager
More From GRI
Tuesday, May 19, 2020 - 8:00am
Friday, May 15, 2020 - 1:35pm
Monday, May 11, 2020 - 8:30am