Take the Pledge: Join Cisco and Become Part of the Movement to Be a Global Problem Solver
Take the Pledge: Join Cisco and Become Part of the Movement to Be a Global Problem Solver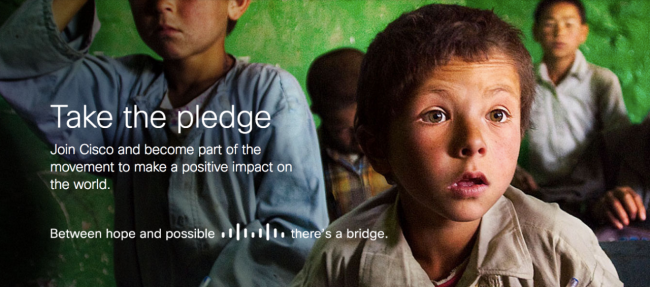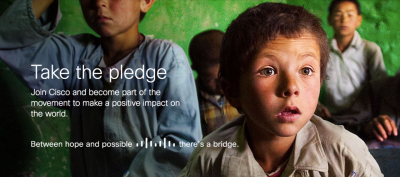 tweet me:
Want to make a positive impact on the world? Join the movement with @CiscoCSR to become a #GlobalProblemSolver! Take the pledge here: http://bit.ly/2B2BdVt #SocialImpact
Tuesday, January 29, 2019 - 9:35am
Cisco is committed to positively impacting 1 billion people by 2025. As part of our work, we seek to inspire and empower a generation of global problem solvers who will not only survive – but drive and thrive – in our increasingly digital economy.
With the Internet of Things (IoT) and digital technologies connecting more devices and data than ever before, good ideas now have the ability to make a difference more quickly than ever before – and we're here to help.
Join Cisco and become part of the movement to make a positive impact on the world. 
About Cisco
Cisco (NASDAQ: CSCO) is the worldwide technology leader that has been making the Internet work since 1984. Our people, products and partners help society securely connect and seize tomorrow's digital opportunity today. Discover more at newsroom.cisco.com and follow us on Twitter at @Cisco.
More From Cisco Systems Inc.
Friday, May 29, 2020 - 11:35am
Monday, May 18, 2020 - 1:45pm
Friday, May 15, 2020 - 10:00am