Take the Guesswork Out of Communicating Your ESG Progress
Take the Guesswork Out of Communicating Your ESG Progress
Join 3BL Media on May 20 at 1 p.m. ET for a demo of the 3BL Professional platform.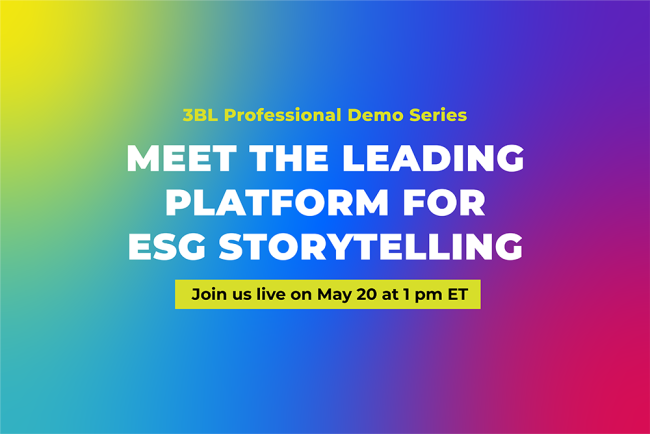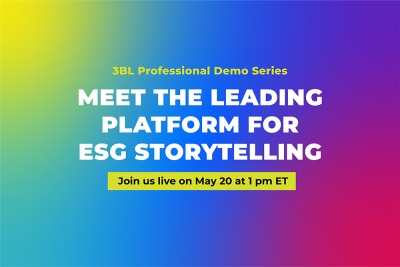 tweet me:
Stakeholders aren't just expecting your company to share the impact behind its #ESG initiatives — they're demanding it. Join 3BL Media for a live demo of the leading platform for ESG communications on May 20 @ 1 pm ET. Register here: https://bit.ly/3oQAEoJ
Wednesday, May 5, 2021 - 8:00am
The research is clear. At a time when business is viewed as the most trusted and effective problem-solver, it is imperative that companies engage key stakeholders with their environmental, social, governance (ESG) agendas.
Here's the good news. Reaching the right audiences with your ESG communications has never been easier. Join 3BL Media on May 20 at 1 p.m. ET to learn about 3BL Professional, the most comprehensive news and content distribution platform of its kind.
In under 30 minutes, you'll learn how to:
Seamlessly reach stakeholders across social media platforms, mainstream media sites, ESG-focused affiliate websites and newsletter distribution.
Target your messaging to investors, journalists, executives and more.
Track and assess your content's performance with advanced analytics and benchmarking tools.
Register here to attend this demo at no cost.