T. Rowe Price Reveals Impact of Water Scarcity on Security Selection
T. Rowe Price Reveals Impact of Water Scarcity on Security Selection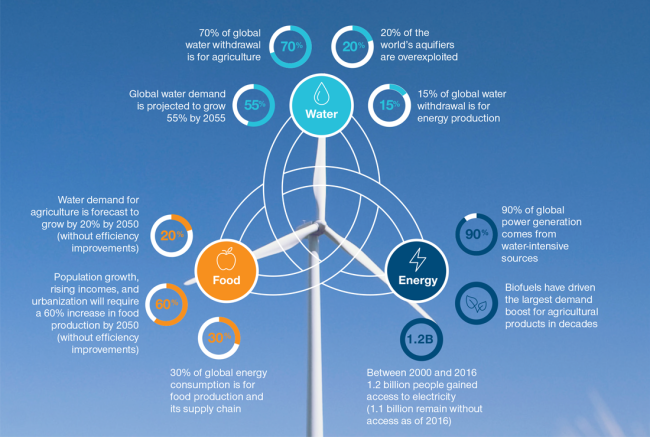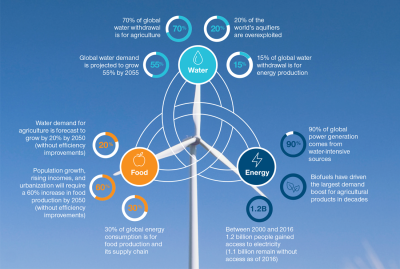 tweet me:
.@TRowePrice reveals impact of water scarcity on security selection http://bit.ly/2DXRlsV
Thursday, May 9, 2019 - 11:00am
May 9, 2019 /3BL Media/ T. Rowe Price has released its inaugural Environmental, Social, and Governance Annual Report, accompanied by a white paper highlighting the need for investors to consider the interaction between water, energy, and food – referred to as the 'WEF Nexus'.
A country's water‑energy‑food balance can be a good indicator for the likelihood of greater environmental regulation. Therefore, understanding how these three vital components for sustainable development interact provides a valuable lens from which investors can better understand the impact of environmental dynamics on company performance.
The linchpin of the WEF Nexus is water. As a finite resource, water scarcity has a direct impact on food supply and power generation. It is often a catalyst for swift regulatory intervention, as the mismanagement of water resources is difficult to reverse, and because prices often do not signal a scarcity issue until too late.
With 1.6 billion people exposed to water scarcity, and that figure expected to double by 2040, WEF Nexus pressures are rising across the globe. Lack of water is shifting from being a global, long-term sustainability concept to a more local and immediate problem. Incidentally, it is typically easier for politicians to mobilise around locally impactful issues like water scarcity, rising food prices, or pollution.
However, integrating water considerations into an investment process creates unique challenges. Often, investors cannot register a direct price signal until water resources have become significantly constrained – even then, it might simply be reflected in increased regulation or shortages, rather than a price spike. And as current water data is not always readily available, water often needs to be considered as an intangible factor in the investment process.
Quote
Maria Elena Drew, Director of Research, Responsible Investing at T. Rowe Price:
Among countries managing WEF-Nexus challenges, China represents a powerful example of how a WEF Nexus imbalance works to drive environmental reform. Environmental regulation in China has tightened substantially as the government encourages restructuring of the country's industrial sector, in its efforts to mitigate global climate change. At the heart of its local environmental reforms is a shift toward a circular economy, which is de-emphasizing any industry that overextends China's natural resource balance without a commensurate social gain.
As we evaluate which companies will be the winners and losers of these industry reforms, we believe environmental, social, and governance factors will play an important role alongside financial analysis. For any industry facing a 'go‑circular' mandate, we consider how a company is working to align its business to meet the government's aims, the confluence of resulting supply chain issues and how companies are readjusting business models to solve them.
For example, considering factory locations and modernisation, access to water permits, as well as other environmental factors in the apparel and textiles sector have been important factors in making investment decisions."
*Sources: Water and Energy (UN Water 2014), Food and Agriculture Organization of the United Nations, UNESCO World Energy Outlook (IEA 2017)
About T. Rowe Price
Founded in 1937, Baltimore-based T. Rowe Price Group, Inc. (NASDAQ-GS: TROW) is a global investment management organization with $1.08 trillion in assets under management as of March 31, 2019. The organization provides a broad array of mutual funds, subadvisory services, and separate account management for individual and institutional investors, retirement plans, and financial intermediaries. The company also offers a variety of sophisticated investment planning and guidance tools. T. Rowe Price's disciplined, risk-aware investment approach focuses on diversification, style consistency, and fundamental research. For more information, visit troweprice.com or our Twitter, YouTube, LinkedIn, Instagram, and Facebook sites.
Contact us
Heather McDonold
T. Rowe Price
410-345-6617
heather_mcdonold@troweprice.com
Bill Weeks
T. Rowe Price
410-345-4713
william_weeks@troweprice.com
More From T. Rowe Price
Friday, May 22, 2020 - 12:40pm
Monday, May 11, 2020 - 8:15am
Thursday, April 9, 2020 - 1:30pm