Sysco Attends VERGE Conference to Talk Sustainability Initiatives
Sysco Attends VERGE Conference to Talk Sustainability Initiatives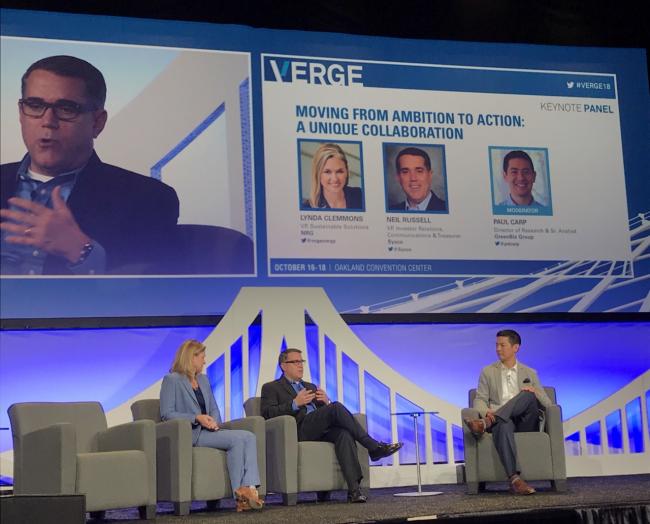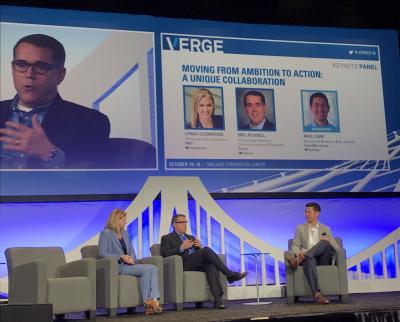 tweet me:
.@Sysco's Neil Russell spoke at @GreenBiz's #VERGE18 about the company's 2025 goals, #sustainability initiatives across their #SupplyChain, and more: http://bit.ly/2OzT3Tt
Wednesday, November 14, 2018 - 10:05am
NEWSROOM: Sysco
CONTENT: Multimedia with summary
Sysco took part in GreenBiz magazine's VERGE 18 Conference, where more than 2,500 leaders gather to explore scalable solutions at the intersection of technology and sustainability. This year the focus areas included: clean energy, transportation and mobility and the circular economy.
Attendees included leaders of corporate sustainability, energy and transportation, technology and service providers, utilities, local and state government policymakers, startups, venture and finance and non-governmental organizations (NGOs).
Neil Russell, Vice President, Investor Relations, Communications and Treasurer, Sysco spoke on a panel, "Moving from Ambition to Action: A Unique Collaboration," with Lynda Clemmons, Vice President, Sustainable Solutions, NRG as they discussed renewable energy - including Sysco's multi-site solar garden project with NRG – which will provide 25 megawatts of solar projects in Texas communities. Paul Carp, Director of Research, Greenzbiz, served as the session moderator.
Other topics covered included: Sysco's 2025 Responsibility Goals, sustainability initiatives across Supply Chain, clean transportation, among other projects.
"We announced the Solar Garden Project with NRG in June, followed by our 2025 Responsibility Goals in August," said Neil Russell. "We have a plan to continue to communicate our progress and milestones annually through our Corporate Social Responsibility (CSR) report. We have a clear path ahead of us and a lot of work between now and our 2025 Commitments. We will continue on delivering our goals and contributing to a meaningful and lasting impact."
More From Sysco
Wednesday, November 6, 2019 - 2:40pm
Tuesday, October 15, 2019 - 11:35am
Wednesday, September 25, 2019 - 5:00pm