Subaru's 'Share the Love' Charitable Campaign to Raise $170 Million Over 12 Years
Subaru's 'Share the Love' Charitable Campaign to Raise $170 Million Over 12 Years
Subaru of America CEO Tom Doll credits retailers for success of charitable holiday event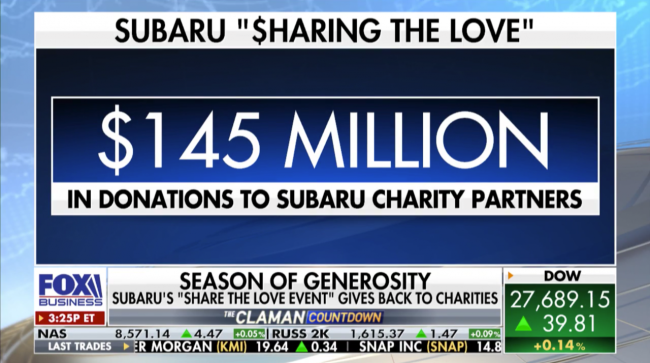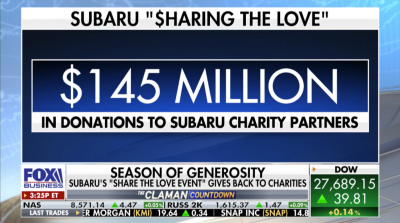 tweet me:
.@Subaru_USA CEO Tom Doll credits retailers for success of its #ShareTheLove campaign where Subaru donates $250 to a charity of the buyer's choice when they purchase or lease a new vehicle. http://bit.ly/38nbgPj #SharetheLove by Catie Perry via @FoxBusiness
Monday, December 16, 2019 - 8:00am
by By Catie Perry | FOXBusiness
Subaru of America CEO thanks retailers for Subaru's 'Share the Love' success
Subaru and partners will have donated $170 million to charities through 12 years of its 'Share the Love' campaign. Tom Doll, Subaru of America CEO and president, joined FOX Business to exclusively discuss the event.
As criticism for large corporations is growing in Democratic circles, Subaru is aiming to prove big companies can do more than just make profits.
More From Subaru of America
Wednesday, April 14, 2021 - 8:20am
Wednesday, April 7, 2021 - 8:00am
Tuesday, April 6, 2021 - 1:00pm