Smithfield Foods Donates 80,000 Pounds of Protein to The Regional Food Bank of Oklahoma and to The North Texas Food Bank
Smithfield Foods Donates 80,000 Pounds of Protein to The Regional Food Bank of Oklahoma and to The North Texas Food Bank
Smithfield Foods joined forces with local retailers as part of their Helping Hungry Homes® initiative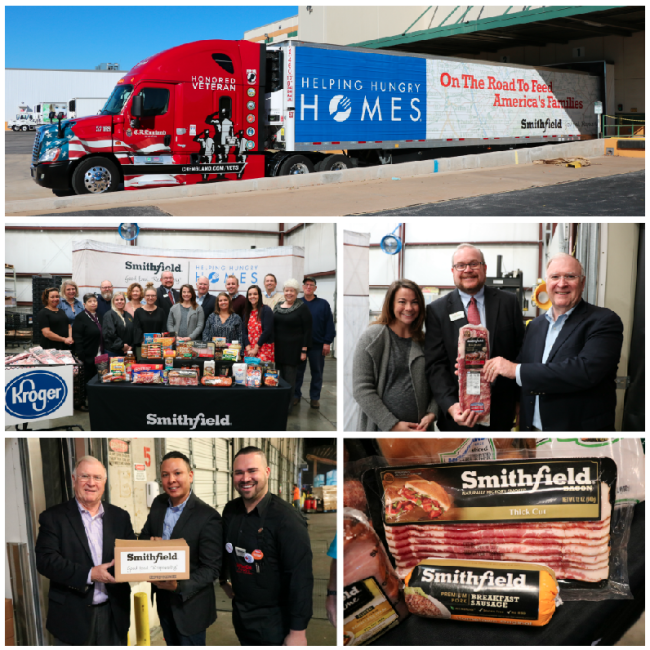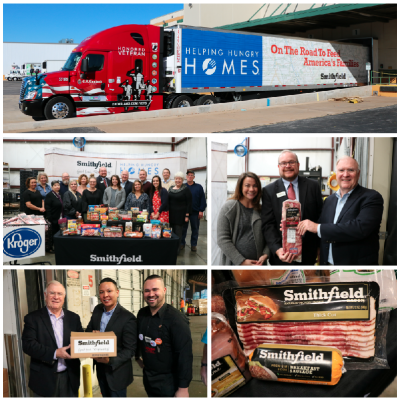 tweet me:
.@SmithfieldFoods donated 80k pounds of protein part of #HelpingHungryHomes tour to help fight hunger across America http://bit.ly/2i7BBrm
Monday, October 30, 2017 - 10:15am
"Like Smithfield, our mission is to fight hunger and feed hope," said Katie Fitzgerald, chief executive officer of the Regional Food Bank of Oklahoma. "We are grateful for the significant donation from Smithfield and Homeland, which will allow us to fill the plates of those we serve with high-quality, protein-rich food, for many weeks to come."
"Protein is a critical, high in-demand resource, with a scarcely low supply that has been amplified even more during our state's disaster recovery," said Dale Long, interim vice president of operations for the North Texas Food Bank. "We are tremendously grateful to Smithfield and WinCo for the donation, which will provide nutrient-rich protein to countless families and individuals across our service area during this time of immediate-need."
The donations are part of Smithfield's Helping Hungry Homes® initiative, a program focused on alleviating hunger and helping Americans become more food secure. For more information about Smithfield Foods' Helping Hungry Homes® initiative and a list of upcoming donation events, visit helpinghungryhomes.com.
Read the press announcements: 
Smithfield Foods Partners With WinCo Foods to Donate 40,000 Pounds of Protein to North Texas Food Bank
Smithfield Foods Partners With Homeland Stores to Donate Nearly 40,000 Pounds of Protein to the Regional Food Bank of Oklahoma
More From Smithfield Foods
Friday, December 11, 2020 - 11:15am
Monday, November 23, 2020 - 12:30pm
Tuesday, November 17, 2020 - 10:00am