Smithfield Foods 2017 Sustainability Report: Innovative Prime Fresh Packaging Video
Smithfield Foods 2017 Sustainability Report: Innovative Prime Fresh Packaging Video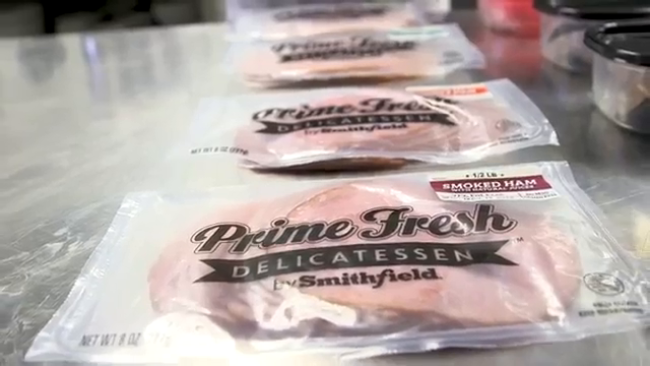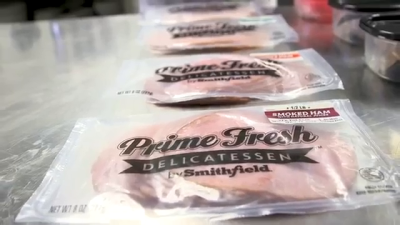 tweet me:
.@SmithfieldFoods' Prime Fresh packaging uses 31 percent less packaging than conventional deli meats, providing a host of #sustainability benefits http://bit.ly/2jFcX2u
Thursday, May 10, 2018 - 9:00am
Smithfield's new Prime Fresh Delicatessen pre-packed lunchmeat line uses proprietary, minimalist packaging that is designed to look like the meat was just sliced at the deli counter. In addition to keeping the product fresher longer, it uses 31 percent less packaging than the conventional tubs that hold other pre-sliced deli meats. This provides a host of sustainability benefits such as fewer transportation miles (due to more product able to fit on trucks) and less waste sent to landfill.
Learn more about Smithfield's commitment to the Environment in its 2017 Sustainability Report at smithfieldfoods.com/environment.
About Smithfield Foods
Smithfield Foods is a $15 billion global food company and the world's largest pork processor and hog producer. In the United States, the company is also the leader in numerous packaged meats categories with popular brands including SmithfieldⓇ, EckrichⓇ, Nathan's FamousⓇ, FarmlandⓇ, ArmourⓇ, Farmer JohnⓇ, KretschmarⓇ, John MorrellⓇ, Cook'sⓇ, GwaltneyⓇ, CarandoⓇ, MargheritaⓇ, Curly'sⓇ, Healthy OnesⓇ, MorlinyⓇ, KrakusⓇ and BerlinkiⓇ. Smithfield Foods is committed to providing good food in a responsible way and maintains robust animal care, community involvement, employee safety, environmental and food safety and quality programs. For more information, visit www.smithfieldfoods.com.
More From Smithfield Foods
Friday, March 27, 2020 - 12:50pm
Monday, March 2, 2020 - 3:30pm
Wednesday, November 13, 2019 - 2:15pm