Siblings Create Online Platform to Help Kids With Learning Differences Discover the Joy of Reading
Siblings Create Online Platform to Help Kids With Learning Differences Discover the Joy of Reading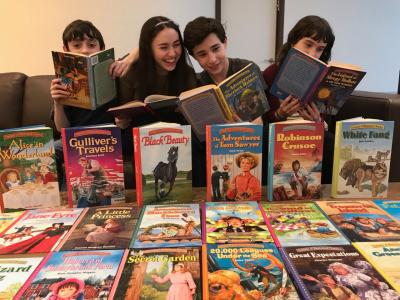 tweet me:
Alana, Jacob and Reuben Blumenstein created KidsRead2Kids to help kids with learning differences discover the joy of reading: http://bit.ly/2AUtOFY #DailyPointofLight #FamilyVolunteering
Monday, November 20, 2017 - 10:15am
For some kids and teens, developing a love of reading can be difficult. After their family experienced this firsthand, siblings Alana, Jacob and Reuben Blumenstein founded KidsRead2Kids.com to help promote both the love of reading, as well as access to reading for youth and adults alike.
KidsRead2Kids is a web-based platform that provides visitors with read-aloud, abridged versions of literary classics – everything from "The Adventures of Sherlock Holmes" to "Jane Eyre" to "Alice in Wonderland." And, in line with KidsRead2Kids mission, the readings are performed by a diverse team of young readers.
As a child, Jacob, now 15, was diagnosed with dyslexia. Inspired by the support he received and resources available to him, he became determined to help provide other kids with learning differences the same opportunities he'd had. "It was a really big struggle for me. I felt like I was alone, like I was different from everyone else," said Jacob. "When I figured out I had dyslexia, it kind of made sense. So here at KidsRead2Kids we wanted to help people who have the same type of problems, but don't have the resources, to get to the point where I got to."