Shared Solutions Unlock Economic Prosperity for Communities
Shared Solutions Unlock Economic Prosperity for Communities
Shared digital platforms are providing underserved communities access to essential services and opening up pathways toward prosperity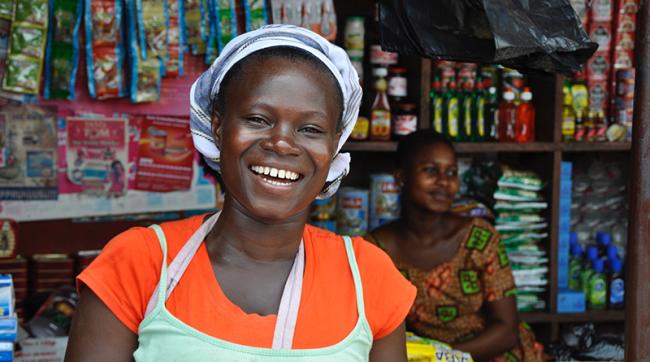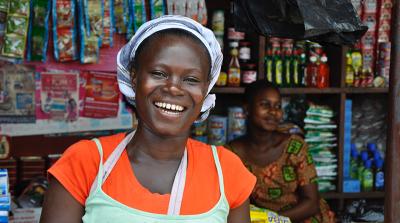 tweet me:
Shared digital platforms are providing underserved communities access to essential services and opening up pathways toward prosperity http://bit.ly/2Hgfax3 @CNTR4Growth
Wednesday, February 19, 2020 - 1:20pm
Today, 3.4 billion people, almost half the world's population, still struggle to meet basic needs such as access to food and life-saving healthcare. Often, the lack of a formal and consistent identity creates barriers to receiving fundamental services such as:
Food and shelter HealthcareCredit to stabilize income flowsMarketplaces to trade fairly and securelyWorking capitalQuality education for children
Often times, those who need to access these services are often the same person—the farmer needs to provide healthcare for herself and her family, send her children to school, and sell her goods at a fair price at a local marketplace. Her husband might be a small shop owner looking to expand, but with a cash-only business he lacks the digital credit history to acquire a loan. He and his wife both must travel many miles to make tuition payments for their children when they have enough funds to cover the costs. 
As needs overlap, a simple, digital tool supported by a consistent digital identity lets individuals access and manage essential life services in a more efficient and secure way, increasing their access and usage of those services, improving their livelihoods and putting themselves on a pathway to prosperity. 
The Solution
Community Pass is a shared digital infrastructure that's connected into a broader ecosystem where individuals can be recognized as the same person in all these different scenarios. It enables safe, secure, and convenient digital transactions – whether an individual is getting healthcare services at the local clinic, checking into a school or even redeeming humanitarian cash aid to purchase goods at a local store.
Community Pass encompasses a broad range of solutions that solve for critical needs and gets more people better access to essential services. Advancing digital inclusion also drives financial empowerment, which is the first step toward greater security and prosperity.
Below are three programs that are a part of Community Pass's suite of solutions for marginalized communities.
Micro-commerce
Micro-commerce, the exchange of small values of money in the course of buying and selling, is the underpinning of many life transactions in emerging markets. 4.5 billion people in marginalized communities buy and sell mostly in cash. Transactions are low value, $0.50 on average, in line with low, irregular daily incomes. Cash is not only unsafe to store and move, but it provides no record, preventing businesses and individuals to qualify for credit. Yet digitizing low-value transactions, which typically occur in places with unreliable connectivity and power, is challenging.
Mastercard Community Commerce aims to digitise low-value transactions for shopkeepers of informal convenience shops. Community Commerce works by giving the shopkeeper a near-field communication (NFC) enabled card terminal that can work offline and the consumer an NFC-based, contactless card ("tap and go").
The card is not linked to a bank account, but it does hold value. For example, shopkeepers often do not have exact change. Now, they can load the balance of what they owe to their customer onto their card. This also allows the shopkeeper to have visibility of any informal accounts they may have with customers and gives them information that they can eventually use to apply for a loan with a bank.
Agriculture
With more than 235 million unbanked adults worldwide receiving cash payments for the sale of agricultural products and 59 percent of them having a mobile phone, development experts see an enormous opportunity to create and scale solutions that address multiple pain points faced by smallholder farmers and other actors in the supply chain.
In early 2017, Mastercard launched the Mastercard Farmer Network (MFN) a mobile platform to digitally connect small farmers in India, Uganda and Tanzania. Developed by Mastercard's Lab for Financial Inclusion in Nairobi, it is a mobile solution that creates a digital market place for smallholder farmers, thereby improving farmers' direct access to the buyers of their crops (rather than relying on middle-men that take a big cut of the exchange).  This increases price transparency, giving farmers a greater likelihood of getting a fair price, while also speeding payments.
MFN is currently available in East Africa and India, with more than 250,000 farmers already on the platform. Working with the International Center for Tropical Agriculture and the United States African Development Foundation, MFN provides participating farmers with a host of value-added services, including logistics and transportation, best agronomic practices, and access to warehousing facilities. Mastercard recently announced a new strategic partnership with Rabobank, which will scale the program to reach one million farmers across Uganda, Tanzania, Kenya, Ghana, Egypt and India by 2020.
Education
103 million youths worldwide lack basic literacy skills and more than 60 percent of them are female. Education and its related costs are often the largest expense for low-income families and more girls are out of school than boys. According to the World Bank, fees and costs related to going to school are the  biggest financial barriers  to schooling.
Kupaa, which means "to fly high" in Swahili, is a digital payment and management tool for schools that was also developed by the Mastercard Lab for Financial Inclusion. In Uganda, where the tool has already reached more than 270,000 students across 500 schools, many parents have sporadic and unpredictable incomes and must endure long trips to pay school tuition and fees.
Kupaa helps parents pay their children's schooling digitally, using basic tablets or feature phones. It removes two of the critical barriers to child education: direct costs, which are the large sum tuition costs that can be smoothed through payment plans; and indirect costs, such as time and travel expenses, which are reduced through digital payments. It also allows schools to document student attendance and communicate directly with parents about how much they have paid or need to pay.
Research indicates that each year a child is in school increases earning potential by eight to ten percent. Investing in quality education contributes to wages, growth, and upward mobility, especially for women.
Enabling access to the digital economy is the first step on a pathway to financial security and prosperity. We believe the private sector has an important role to play in driving inclusion, and so we are applying our company's best assets—tools, technology, insights, funding and expertise—to create solutions that scale across countries and continents. By doing so, we can put people on pathways to long-term financial security and help to improve quality of life for everyone.
More From The Mastercard Center for Inclusive Growth
Tuesday, February 16, 2021 - 3:00pm
Wednesday, January 20, 2021 - 2:15pm
Monday, November 23, 2020 - 2:00pm
Videos from The Mastercard Center for Inclusive Growth