Schneider Electric Supports Hunger Relief Through Tomorrow Rising and Foundation
Schneider Electric Supports Hunger Relief Through Tomorrow Rising and Foundation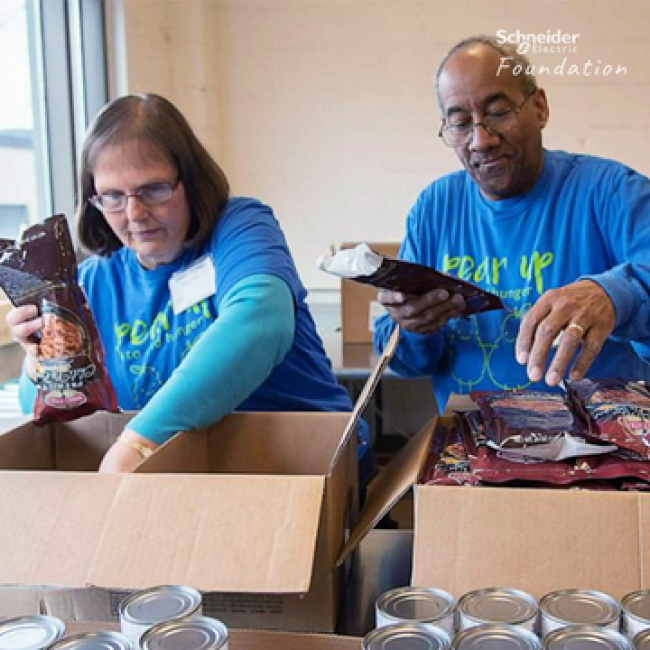 tweet me:
Here's how @SchneiderElec is supporting #COVID19 and hunger relief efforts through its #TomorrowRising campaign and the Schneider Electric Foundation. #LifeIsOn https://bit.ly/2X8EH45
Thursday, May 28, 2020 - 4:25pm
Schneider Electric Foundation
The Schneider Electric Foundation (under the aegis of the Fondation de France) uses social innovation and community engagement to invest in education, reduce the energy gap, and increase sustainability awareness. The Foundation marked its 20th anniversary in 2018.
Foundation mission
In a world where social and environmental challenges are more widespread and more urgent than ever, the Schneider Electric Foundation supports innovative and forward-looking initiatives to give as many people as possible the energy they need to succeed. It is this pioneering spirit that the Schneider Electric Foundation is seeking to advance. We see our role as a catalyst for technological, social, and entrepreneurial innovation helping to close the energy gap and striving for a more equitable energy transition around the world. Ever optimistic, the Schneider Electric Foundation's aim is to help build a fairer, lower-carbon society to give future generations the keys to transform our world.
More From Schneider Electric
Wednesday, April 21, 2021 - 10:55am
Thursday, April 15, 2021 - 9:35am
Tuesday, April 13, 2021 - 10:30am