Sappi Uncovers New Values in Trees for Sustainable Future
Sappi Uncovers New Values in Trees for Sustainable Future
Company continues to work toward goal of using every part of the tree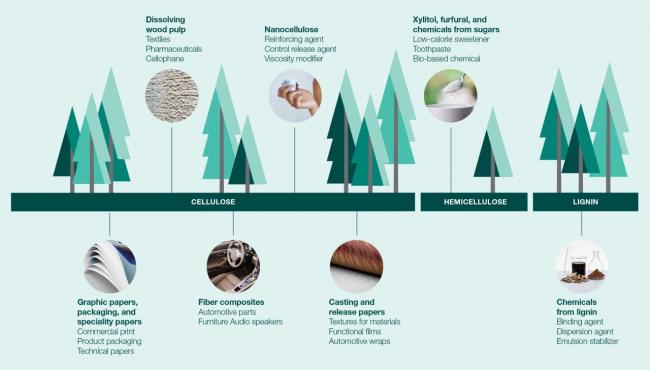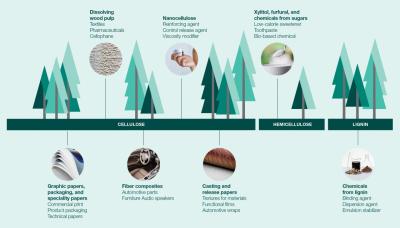 tweet me:
.@SappiNA develops innovative processes for added value in wood fiber resources. Learn the cycle here: https://bit.ly/3n1ctCB
Tuesday, February 9, 2021 - 11:30am
As Sappi seeks to create sustainable profits while minimizing its impact on the environment, we are reexamining ways to unlock the full value of trees. Traditionally, the papermaking process has only used approximately two-thirds of the raw wood material to manufacture pulp and paper products. The balance of the raw material is used to generate energy to power the mill or to sell into the electricity grid. Yet, a tree has so much more to offer. "We have only begun to tap the full potential of trees," says Beth Cormier, SNA's Vice President, Research, Development, and Sustainability.
Wood is made up of lignin, hemicellulose, and cellulose, which are among the most abundant polymers on the planet. Forests are renewable, and the biomass cycle continually sequesters carbon dioxide, making wood an ideal natural resource for biomaterials. Beth notes, "We burn the lignin extracted during the papermaking process—it is a good, renewable fuel, but are there better and more profitable uses for it?"
Beth's job—along with her team in North America and her counterparts in Europe and South Africa— is to develop innovative new processes and biomaterials that extract more value from each tree and provide sustainable/lower carbon alternatives to materials most commonly used today. Transforming wood into consumer products is in Sappi's DNA. Global Teams are leading us forward with what Beth calls "this wonderful material" that is so good for our planet and provides products with remarkable characteristics with so many uses and "surely more to be unlocked." 
More From Sappi North America
Tuesday, March 9, 2021 - 12:05pm
Tuesday, February 23, 2021 - 12:00pm
Thursday, February 18, 2021 - 4:50pm