Raven Brooks: Getting The Vote Out
Primary tabs
Raven Brooks: Getting The Vote Out
tweet me:
This wk's @SeaChangeRadio - host @SweetAl speaks with the COO of @VoteDotOrg (and former Exec. Dir. of @Netroots_Nation), @RavenB, on efforts to get folks out to the polls around the country on Nov. 6th. http://www.cchange.net/2018/10/16/raven/
Multimedia from this Release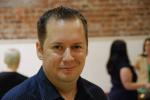 Wednesday, October 17, 2018 - 2:00pm
Voting. It's the fundamental premise underpinning our governmental system. There shouldn't be disagreement about that, irrespective of political party, right? Why, then, across the nation, are we seeing Republican-run state governments purging voter rolls and erecting barriers to prevent people from exercising their franchise. This week on Sea Change Radio, we speak with Raven Brooks, the COO of Vote.Org, a nonprofit and nonpartisan organization dedicated to getting more Americans to vote. We discuss Vote.Org's approach to voter registration, how the organization persists in the face of voter suppression tactics, and as we approach the midterm election on Nov. 6th, what's happening with the vote in places like Florida, North Dakota, Georgia, Kansas, and Texas.
More From Sea Change Radio
Tuesday, May 14, 2019 - 7:30pm
Wednesday, May 8, 2019 - 9:00am
Wednesday, May 1, 2019 - 4:00pm