One-Stop-Shop for 2021 Reporting Needs
One-Stop-Shop for 2021 Reporting Needs
New and improved GRI services to help companies deliver better sustainability reports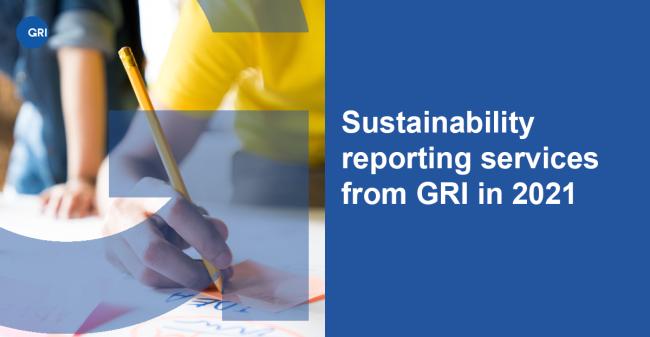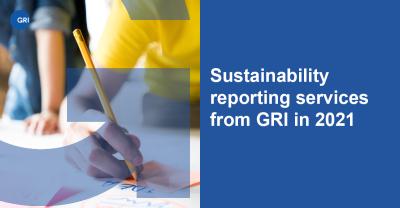 tweet me:
New services to help companies deliver better #sustainabilityreporting are being rolled out by @GRI_Secretariat, with a focus on how reports using #GRIstandards can meet the needs of stakeholders & demonstrate #corporatetransparency https://bit.ly/2YcDPv4
Tuesday, January 26, 2021 - 8:00am
GRI is continuing to evolve the support services available to help organizations deliver sustainability reports that effectively communicate their impacts on the economy, the environment and society.
All of GRI's services are available remotely and online, with the focus on using the GRI Standards effectively to produce high quality reporting that meets the information needs of stakeholders.
For those getting started with the GRI Standards, or for companies that would like to transition to an 'in accordance' GRI report, the newly launched Kickstarter workshop gives a broad understanding on the reporting process. From how the Standards are structured to key concepts such as stakeholder engagement, impacts and materiality, this intensive, four-hour session incorporates both group discussions and practical exercises. 
For more experienced reporters, there are opportunities to improve how they align their report with the GRI Standards. The alignment check services complement each other and focus on the different areas of the report context index, helping ensure published reports are easier to use, with clarity and accuracy on which Standards and disclosures have been applied and where the reporter information is located.
Reporters can use one or more of the alignment services, depending on their needs: 
 Shivani Rajpal, GRI Director of Training and Services, said:
 "We are very happy to continue offering our report services in 2021 to both reporters and consultants. Last year was difficult for many companies, but we are proud to say that we supported more than 500 organizations with alignment checks. 
 Both the Kickstarter workshop and Management Approach Disclosures service have been recently developed, as we respond to the need of reporters. We are looking forward to working with many more organizations this year to support them in their reporting journey."
Erika Riojas De Hoyos, Sustainability Analyst with Mexico-based building materials company CEMEX S.A.B. de C.V., said:
"Working with GRI for the Materiality Disclosure Service was a pleasure, as their team is professional, efficient and supportive, with open communication in almost real-time. This service ensured consistency on our material issues and has strengthened our reporting by focusing on generating high-quality information for our stakeholders.
Using the GRI Standards ensures CEMEX is always one step ahead. With non-financial reporting now mandatory in several of the countries we work in, we can meet these demands through the information we already disclose in our GRI report."
Ksenia Malikova, Senior Consultant with Nexia Pacioli, a business consultancy in Russia, said:
"We collaborated with GRI in 2020  to deliver the Content Index Service for a major Russian electric utilities company, which brought us both sound results and an enjoyable experience. We are grateful to our colleagues at GRI for their professional services and approach. This helped us deliver an accurate and more effective report, which consequently was recognized in both national and international reporting awards."
Alongside reporter services, GRI also delivers a range of reporting tools. Online professional development is supported through the GRI Academy, in addition to training by GRI Certified Training Partners.   
Global Reporting Initiative (GRI) is the independent, international organization that helps businesses and other organizations take responsibility for their impacts, by providing the global common language to report those impacts – the GRI Standards.
More From GRI
Tuesday, March 2, 2021 - 9:40am
Friday, February 26, 2021 - 11:30am
Thursday, February 18, 2021 - 8:30am