Observations for a Better World – Valuable Impacts for Customers and Societies
Observations for a Better World – Valuable Impacts for Customers and Societies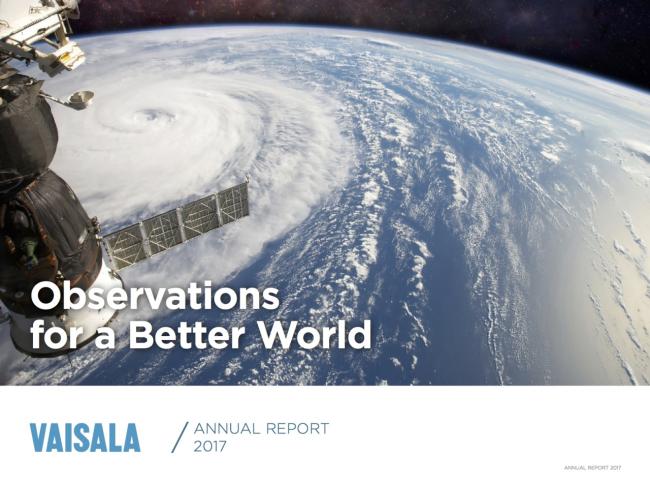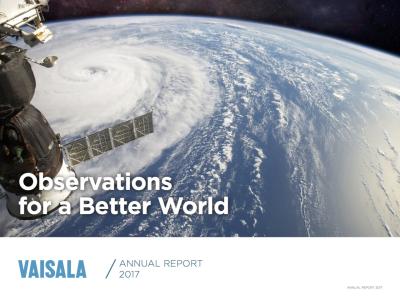 tweet me:
.@VaisalaGroup, a global leader in #environmental & industrial measurement, shares how their focus on #sustainability positively impacts society. Learn more in their annual report via @ReportAlert http://bit.ly/2GQqvlf
Friday, March 2, 2018 - 8:00am
Vaisala, a global leader in environmental and industrial measurement, published today its renewed annual report. The report is its first to integrate strategy, value creation, financial statements, governance, and sustainability information all into one coherent report.
Vaisala believes in a world where environmental observations improve the safety, efficiency, and quality of life in societies. Implementing an integrated approach in its reporting, Vaisala describes its impacts to its customers, and to the different parts of society.
In Vaisala, as in businesses everywhere, focus on sustainability is shifting from reducing negative impacts to creating sustained value over time and positive societal impacts. In Vaisala, this manifests itself through offering sustainable technologies with real-world impacts to our customers.
CEO and President Kjell Forsén explains, "We are starting to see that increased awareness of climate change is bringing more business to Vaisala. We have been involved in extreme weather and hurricane research for a long time, but the recent weather-related catastrophes have raised awareness in many developing countries: they need to improve their meteorological forecasting capabilities."
Sustainable Technologies
Through its weather solutions, Vaisala safeguards lives and property and reduces environmental impacts. Industrial measurements bring efficiencies and reduce energy and material consumption in customers' operations. Renewable energy solutions and services optimize site selection and power output for the renewable energy sector. Air quality observation networks warn citizens and authorities about dangerous levels of pollution in urban areas.
Chairman of the Board Raimo Voipio reflects, "This is a big responsibility. It spurs us on to develop our share of new answers to the global problems we face."
Ultimately, Vaisala's technology and solutions help safeguard life and property, while enabling critical decision-making that facilitates effective and efficient operations. Vaisala strongly believes that the value created to societies, outweighs the negative impacts of its operations.
"Technological innovation is in our DNA, and we want and need to be at the cutting edge of development, to find new solutions to customer needs in demanding applications," says Kjell Forsén. We are constantly looking for new applications for our products and exploring the possibilities to measure completely new parameters.
 
Developing Together
Along with describing the value created for its customers and society, Vaisala emphasizes the importance of its people. A theme throughout the year has been creating a systematic improvement culture in our operations. We have implemented procedures that ensure involving all employees in the development work and making continuous improvement part of everyone's job.
Being at the forefront of solving the most difficult challenges of our time makes being in the Vaisala team exciting. Consequently, learning, well-being, and a purposeful work are the building blocks of successful careers at Vaisala.
Key Achievements during 2017
Opened new offices in Mexico City, Mexico and Nairobi, Kenya to respond to growing demand in these markets.
Vaisala broadened its know-how in artificial intelligence and computer vision by acquiring the Finnish IT company Vionice.
Announced new air quality measurement networks to be built in Nanjing, China and Helsinki, Finland.
Expanded business into a new area, vaporized hydrogen peroxide, which is used in bio-decontamination and sterilization.
Signed a five-year multimillion-dollar contract with National Oceanic and Atmospheric Administration (NOAA) supporting the U.S. National Weather Service in providing severe and extreme weather forecasts and research.
Reductions of Scope 1-2 emission amounted to -84% from the 2014 baseline.
94% of electricity used at the end of 2017 came from renewable sources, moving firmly towards the 100% renewable electricity target of 2020.
Has conserved a total amount of 13.7 GWh of energy cumulatively since 2009 through energy efficiency actions.
Waste recovery rate at manufacturing sites remains stable at 98%.
The full report is available online at www.vaisala.com/annualreport.
 
Media Contact:
Ms. Marina Stenfors
Communications Manager
Vaisala
Tel +358 50 364 4909
Social Media Accounts:
facebook.com/Vaisala
twitter.com/VaisalaGroup
linkedin.com/company/vaisala-oyj
youtube.com/user/VaisalaGroup
 
About Vaisala
Vaisala is a global leader in environmental and industrial measurement. Building on over 80 years of experience, Vaisala provides observations for a better world. We are a reliable partner for customers around the world, offering a comprehensive range of innovative observation and measurement products and services. Headquartered in Finland, Vaisala employs more than 1,600 professionals worldwide and is listed on the Nasdaq Helsinki stock exchange.  www.vaisala.com  www.twitter.com/VaisalaGroup
More From 3BL ReportAlert
Wednesday, October 9, 2019 - 2:00pm
Tuesday, October 8, 2019 - 4:00am
Monday, October 7, 2019 - 8:00am