Northern Trust's Business Resource Councils
Northern Trust's Business Resource Councils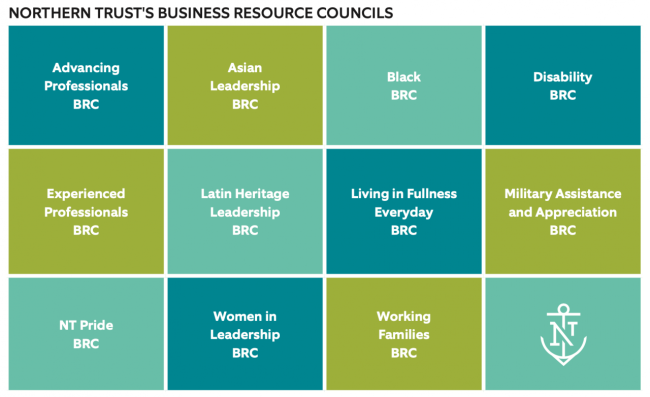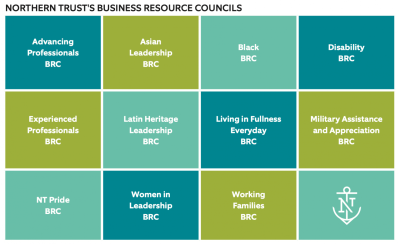 tweet me:
In 2019, @NorthernTrust's BRCs launched global campaigns to increase collaboration across regions and strengthen the engagement of its employees worldwide: https://bit.ly/3fgf3C5
Monday, November 23, 2020 - 12:30pm
The Northern Trust Business Resource Councils (BRCs) are employee-led resource groups that provide tools and resources to support the development of an inclusive culture that values and leverages DE&I to achieve and sustain superior business results through:
Contributing to the organization's success by providing professional development opportunities
Assisting in attracting diverse talent
Providing diverse insights to our overall business
Enhancing cultural understanding
BRC participation is voluntary and open to all employees who are interested in the mission of the group. To provide further connectivity to our organization's priorities and additional strategic oversight, each BRC is managed by an executive committee of mid- to senior-level employees and benefits from the guiding input of an executive sponsor.
In 2019, our BRCs led internal and external events with the purpose of advancing diversity, equity, inclusion and engagement. The councils also launched global campaigns to increase collaboration across regions and strengthen the engagement of our employees worldwide.
A few key programs and initiatives included:
NORTH AMERICA
BRC Advisory Council — Northern Trust developed the BRC Advisory Council to align the BRCs to our DE&I strategy, foster collaboration to form more intersectionality, and create consistency across the BRCs. It aims to increase the value and visibility of the BRCs by developing talent, fostering engagement and creating a community connection.
BRC Summit — Our second annual BRC Summit took place in
our Chicago and Tempe offices and focused on celebrating DE&I, promoting the benefits of BRC membership and illuminating career opportunities and key skills for success across Northern Trust. The Career Expo provided participants exposure to Northern Trust's business units through in-person networking with managers and access to relevant learning and development opportunities. As part of the summit, the BRC executive committees participated in the first of a five-part BRC Leadership Learning Series focused on leadership attributes including strategic thinking, planning and execution, personal courage, effective communication and inspirational leadership. The summit successfully increased membership across the BRCs.
Women's Leadership Development Forum (WLDF) — Led by our Women in Leadership BRC, the annual Women's Leadership Development Forum is a series of professional development and personal mentoring sessions designed to develop strategic leaders. This year, in response to industry trends and membership feedback, WLDF integrated a male-ally component to engage men as allies, provide tools men can use to advocate for women in the workplace, and clarify ways men can support the advancement of women. More than 1,700 high-potential women ranging from early- rising talent to senior leaders have participated in the program globally since its inception in 2008, including the most recent cohort of 118 women.
GLOBAL CAMPAIGNS
International Day for Persons with Disabilities — The International Day for Persons with Disabilities is observed annually on December 3rd to promote the rights and well-being of people with disabilities. Led by the Disability BRC, employees celebrated across our Northern Trust offices in APAC, EMEA and the U.S. Highlights included a disability awareness poster campaign in India, the lighting of our offices in Ireland in purple, a volunteer event with a non-profit organization that provides services to persons with disabilities in Manila and an information session in North America on the various disabilities that can impact a person's ability to carry out their day-to-day activities.
International Day Against Homophobia, Transphobia and Biphobia (IDAHOTB) —
In support of Northern Trust's commitment to fostering a diverse, equitable and inclusive culture, offices around the world marked the day on May 16 and 17. Led by Northern Trust's global NT Pride BRC employees in Chicago, Guernsey, Ireland, London, Manila and Tempe wore purple to recognize the day. Through activities including a photo booth and ally workshop, employees in Manila promoted the power that LGBTQ+ ally support can bring. The strong international participation in the annual IDAHOTB event illustrates Northern Trust's commitment and support of LGBTQ+ employees.
Global Military Appreciation — Members of the Military Assistance and Appreciation BRC worked together in a global campaign to show appreciation for Northern Trust employees who have served in the military and the families of veterans or those who are currently serving. On Veterans Day in the U.S. and Remembrance Day in the U.K., our Chairman, President and CEO joined several Northern Trust leaders to thank our veteran employees around the globe for their service through an internal video. An accompanying presentation included photos of our veteran employees, highlighted the work the BRC has done internally and externally, and illuminated the efforts of our organization to support veterans and veteran hiring. This global campaign showcased the unique skills, talents and sense of teamwork our military employees contribute to Northern Trust.
Click here to read more from the Northern Trust Corporate Social 2019 Responsibility Report
More From Northern Trust
Tuesday, January 26, 2021 - 11:05am
Thursday, January 14, 2021 - 4:05pm
Monday, December 21, 2020 - 8:30am