Michael Mann: Agency and Urgency
Michael Mann: Agency and Urgency
tweet me:
This wk's @SeaChangeRadio - Noted Penn State Climate Scientist @MichaelEMann sits down with host @SweetAl after receiving the 2019 @TylerPrize http://bit.ly/2H56lWp
Multimedia from this Release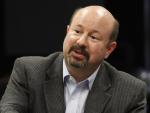 Wednesday, May 8, 2019 - 9:00am
Back in 1999, a team of scientists published a graphic depiction reconstructing northern hemisphere temperatures for the previous 1000 years. The steep increase from the 1900s on inspired the scientific community to give this visual a clever nickname: the hockey stick graph. This week on Sea Change Radio, we sit down with Michael Mann, the lead researcher on that study that introduced a generation to the notion of climate change. He is widely published and has received a number of awards, the most recent being the Tyler Prize for Environmental Achievement in April of 2019. In our conversation, we talk about why academics should bust out of the ivory tower, examine the climate change denial movement, and explore how the adage, "the best defense is a strong offense," has served him well.