Merck Inducted Into US Chamber of Commerce's Corporate Citizenship Hall of Fame for Long-Term Commitment to Corporate Responsibility
Merck Inducted Into US Chamber of Commerce's Corporate Citizenship Hall of Fame for Long-Term Commitment to Corporate Responsibility
The Chamber of Commerce announced its 20th Annual Citizens Awards in Washington D.C.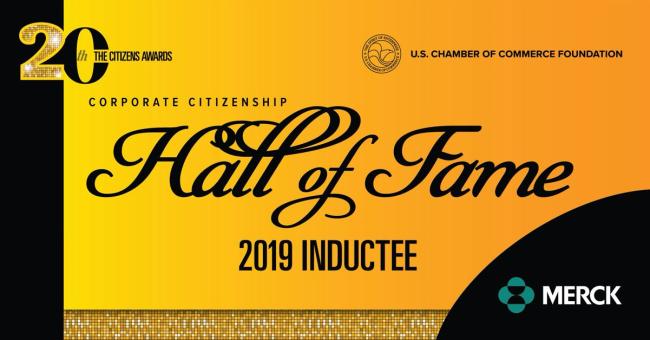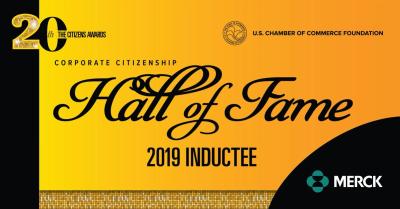 tweet me:
.@Merck Inducted Into US Chamber of Commerce's Corporate Citizenship Hall of Fame for Long-Term Commitment to Corporate Responsibility http://bit.ly/330d650 #Citizens2019
Tuesday, November 19, 2019 - 2:35pm
On Thursday, the U.S. Chamber of Commerce inducted Merck into the inaugural Corporate Citizenship Hall of Fame, which documents the living history of corporate philanthropy and social responsibility.
This year marks the Chamber of Commerce's 20th Annual Citizens Awards, and to celebrate this milestone, the Chamber of Commerce has established the Corporate Citizenship Hall of Fame to recognize six companies, their leaders and employees for making the world a better place and exemplifying purpose-driven work.
Merck has been recognized for raising the bar on social responsibility and building a strong, healthy and sustainable future through our historic and ongoing commitment to addressing some of society's biggest health challenges and strengthening communities through our philanthropic contributions, product donations and employee volunteering efforts. We are proud of this recognition as we continue our mission to save and improve lives.
"We are honored to be inducted into the Corporate Citizenship Hall of Fame," says Carmen Villar, vice president, social business innovation for Merck.  "The recognition reflects our company's history of saving and improving lives in communities all over the world, and we're excited to continue that journey."
U.S. Chamber of Commerce Recognizes Merck for Mothers
Merck for Mothers was recognized as the U.S. Chamber of Commerce Foundation's Citizens Award for Best Health and Wellness program for its outstanding work in confronting maternal mortality and helping to save and improve lives around the world.  We are proud to be recognized for leading the charge in creative innovative solutions to some of the world's most pressing challenges. 
For more information on our work, please visit our 2018/2019 Corporate responsibility report for updates on our programs, policies and partnerships that advance our shared social and business objectives.
More From Merck & Co., Inc.
Tuesday, March 31, 2020 - 10:05am
Thursday, March 26, 2020 - 4:40pm
Monday, March 23, 2020 - 1:00pm