Merck Chairman and CEO Ken Frazier Honored with Ronald H. Brown American Journey Award
Merck Chairman and CEO Ken Frazier Honored with Ronald H. Brown American Journey Award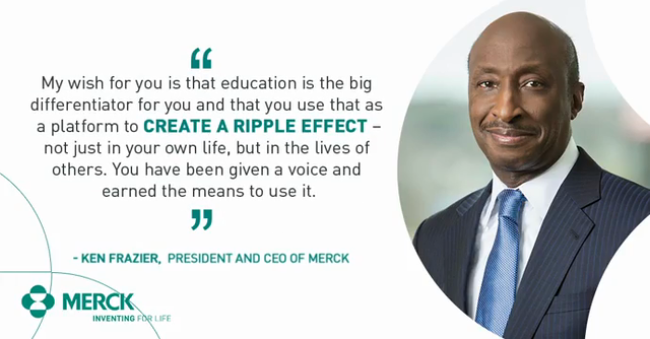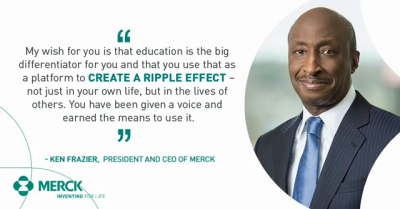 tweet me:
.@Merck Chairman and #CEO Ken Frazier Honored with Ronald H. Brown American Journey Award http://bit.ly/2GDHsmz @ronbrownscholar #education #diversity
Wednesday, March 28, 2018 - 12:20pm
On March 23, Merck Chairman and CEO Ken Frazier received the Ronald H. Brown American Journey Award. The award, given annually, honors outstanding Americans who exemplify the vision and transformative ideals of Ron Brown, the first African-American U.S. Secretary of Commerce.  At the ceremony, Ken expressed hope about Americans coming together to develop workable solutions to the problems we face and spoke to the Ron Brown Scholars, young African Americans of outstanding promise who are helping to shape our society. Watch this video to read excerpts of Ken's advice for the scholars.
About the Awards: The Ronald H. Brown American Journey Award is given to role models who demonstrate the importance of mentoring, service and fostering the next generation of diverse leaders in America. Ron Brown Scholars are offered academic scholarships, service opportunities and leadership experiences. 
Learn more about the program here.
About Merck
For more than a century, Merck, a leading global biopharmaceutical company known as MSD outside of the United States and Canada, has been inventing for life, bringing forward medicines and vaccines for many of the world's most challenging diseases. Through our prescription medicines, vaccines, biologic therapies and animal health products, we work with customers and operate in more than 140 countries to deliver innovative health solutions. We also demonstrate our commitment to increasing access to health care through far-reaching policies, programs and partnerships. Today, Merck continues to be at the forefront of research to advance the prevention and treatment of diseases that threaten people and communities around the world - including cancer, cardio-metabolic diseases, emerging animal diseases, Alzheimer's disease and infectious diseases including HIV and Ebola. For more information, visit www.merck.com and connect with us on Twitter, Facebook, Instagram, YouTube and LinkedIn.
More From Merck & Co., Inc.
Wednesday, November 18, 2020 - 9:45am
Tuesday, November 17, 2020 - 2:15pm
Wednesday, November 4, 2020 - 4:30pm