Mentoring New Collar Students
Mentoring New Collar Students
Danille Jager is helping P-TECH students thrive in Newburgh, New York.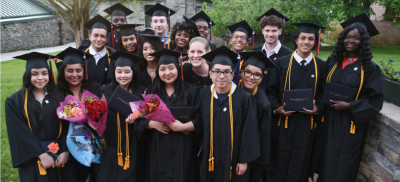 tweet me:
Learn how @IBM's Danille Jager is helping @PTECHNETWORK students thrive in Newburgh, New York http://bit.ly/36DUeeU #STEM
Wednesday, December 4, 2019 - 10:05am
NEWSROOM: IBM
CONTENT: Article
"My teachers raised me," recalls Danille Jager, an Education Program Manager at IBM. "I grew up in a single-parent household, raised by my dad who worked nonstop to keep food on the table. School was my escape, my safe place, and my freedom."
These days, Jager identifies closely with the teens she mentors at the IBM-sponsored P-TECH™ school in Newburgh, New York, a grades 9-14 program in one of the most economically challenged communities in New York State. She is IBM's full-time liaison to the school, where she pairs students with IBM mentors, arranges workplace and STEM experiences, and collaborates with teachers, administrators and the local school district and community college.
She says that the teens at her school "are incredible and inspire me each day. Four of them are now working at IBM, and my heart bursts with pride for all that they're accomplishing. It's so rewarding to see the success of our students, interns, apprentices, and graduates."
Danille laughs when she explains how the student community has embraced her. "I've been named 'P-TECH Mom' by my summer interns and the students threw me a surprise birthday party this year," she says. "I teach Workplace Learning classes here on 'IBM Fridays' and spend time face to face with many of the students. The students have welcomed me more and more into their school."
The school has become the kind of place she relished when she, herself, was a teen, and when school was a refuge. "The teachers are supportive beyond measure. P-TECH is a family."
More From IBM
Monday, July 20, 2020 - 4:00pm
Thursday, July 2, 2020 - 10:30am
Friday, June 26, 2020 - 12:15pm