Mark Coleman on Mindfulness and Nature
Mark Coleman on Mindfulness and Nature
tweet me:
This week's @SeaChangeRadio - "Mark Coleman on Mindfulness and Nature" https://www.cchange.net/2019/07/09/coleman/
Multimedia from this Release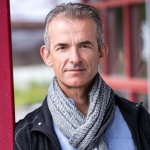 Tuesday, July 9, 2019 - 7:50pm
The last time you went for a little walk around the neighborhood, did you take a few moments to drink in the natural beauty around you, even in the most unlikely of places, like a timid squirrel, a blossoming tree or a unique cloud formation or did you choose to zone out with a podcast, talk on the phone or text someone? This week's guest on Sea Change Radio wants you to try your best next time to be more attentive of your surroundings - and, who knows, it might just become a habit. We speak to author and nature meditation teacher, Mark Coleman, about his new book "From Suffering To Peace," and the steps we can take to appreciate our environment in hopes that we can become happier, kinder and better stewards of our planet.