M Jackson: It's Thin Where We're Skating
M Jackson: It's Thin Where We're Skating
tweet me:
This wk's @SeaChangeRadio - "M Jackson: It's Thin Where We're Skating" http://www.cchange.net/2019/01/15/m/
Multimedia from this Release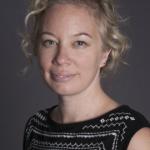 Wednesday, January 16, 2019 - 9:00am
Have you ever noticed that scientists historically are mostly white men? Do you think that this fact has skewed some scientific findings? Well, our guest today on Sea Change Radio has certainly noticed. This week, we speak to glaciologist M Jackson, who's drawn attention from the right wing for the feminist perspective she applies to her research. We discuss her new book, "The Secret Lives of Glaciers," dive into her research, and examine how and why science has been influenced by centuries of white male dominance.