Lloyd Alter: Transportation Puzzles
Lloyd Alter: Transportation Puzzles
tweet me:
Great transportation discussion with host @SweetAl and @lloydalter of @TreeHugger on this week's @SeaChangeRadio: https://www.cchange.net/2019/04/23/lloyd/
Multimedia from this Release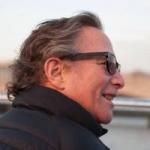 Wednesday, April 24, 2019 - 12:35pm
The industrial revolution ushered in an era of more efficient transportation. As history has shown us, the impact of our ability to move easily across town and across the planet is complex. It has made the world smaller but it has also given rise to the climate crisis. This week on Sea Change Radio we speak to TreeHugger's Lloyd Alter about innovations in the transportation space. First, we look at one of the cleanest, oldest and best forms of modern transport: the bicycle. We look at the latest designs in e-bikes, discuss whether or not they will come down in price and become more ubiquitous, and examine the gender gap in cycling. Then we talk about the threat that cheap flights and booming ridership pose for the planet, and the future of self-driving cars and ride-sharing.