Linking Climate-related Metrics to Earnings for Capital Goods Companies
Linking Climate-related Metrics to Earnings for Capital Goods Companies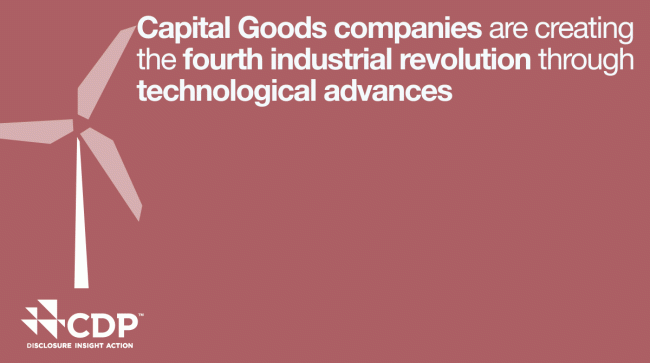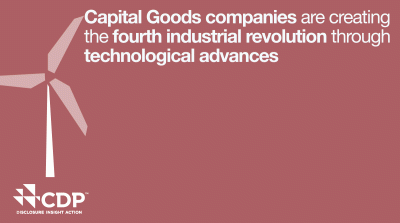 tweet me:
Among electrical equipment companies, @SchneiderElec has received @CDP's top ranking for business readiness in #lowcarbon economy transition http://bit.ly/2vdGdmc #sustainability
Monday, July 30, 2018 - 11:20am
Innovation in the capital goods sector is driving a low-carbon industrial revolution according to CDP, the not-for-profit organization provides the only global system for companies and cities to measure, disclose, manage and share vital environmental information. CDP released a new report on low-carbon technologies for 2018, which ranks 22 of the largest and highest-emitting capital goods companies and assets, which companies are preparing for a transition to a low carbon economy. The companies fall into three sub-categories: Electrical Equipment, Industrial Conglomerates and Heavy Machinery. These companies have global activities covering all regions including the growing end markets in emerging markets.
According to this report, significant revenue opportunities are available to these sectors based on low-carbon technologies aligned with mega-trends in transitioning to a low-carbon economy. For CDP, the biggest opportunity set available to the electrical equipment sector relates to electrification with products linked to micro-grid, energy storage, distributed renewable generation and connectivity expected to see fast growing end markets.
Among Electrical Equipment companies, Schneider Electric received the top ranking for business readiness in low carbon economy transition ahead of Mitsubishi and ABB. Schneider Electric actively participates and proposes in useful initiatives to increase the low-carbon approach to the world's economy. In 2015 for example, the company unveiled 10 sustainability commitments. The goal of these pledges is to ensure that Schneider Electric's entire ecosystem — from its operations to its suppliers, customers, and partners — becomes carbon neutral by 2030. The company unveiled its new sustainability strategy in 2018 with the launch of Schneider Sustainability Impact.
More From Schneider Electric
Friday, January 24, 2020 - 2:40pm
Thursday, January 23, 2020 - 3:40pm
Monday, January 20, 2020 - 11:35am