Let's Stand up for Equality, Justice and Human Dignity
Let's Stand up for Equality, Justice and Human Dignity
Symantec celebrates International Human Rights day with a look at its support of the United Nations Global Compact and Sustainable Development Goals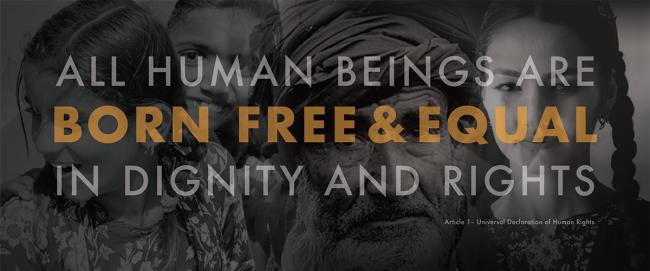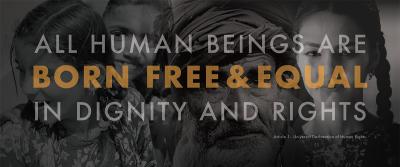 tweet me:
It's the 70th anniversary of the #UDHR! Learn how @Symantec partners with @globalcompact and contributes to the #GlobalGoals this International Human Rights Day: http://bit.ly/2zQoWTo #StandUp4HumanRights
Monday, December 17, 2018 - 2:30pm
The Universal Declaration of Human Rights turned 70 last week. This milestone document proclaimed the inalienable rights which everyone is inherently entitled to as a human being -- regardless of race, color, religion, sex, language, political or other opinion, national or social origin, property, birth or other status.
The principles enshrined in the Declaration are as relevant today as they were in 1948 and at Symantec we believe in standing up for our own rights and those of others. We signed on to the United Nations Global Compact (UNGC) in 2006, committing alongside 9,000 other companies and 4,000 non-businesses to align our business with the UNGC's Ten Principles.
Working across sectors and with multiple stakeholders, this principles-based approach helps ensure our business meets fundamental responsibilities in regards to human rights, labor rights, the environment and anti-corruption. We were one of the first companies to sign on to the Women's Empowerment Principles, participated in the Anti-Corruption Working Group, and are making progress toward our second Science-Based Target, after hitting our first greenhouse gas reduction goal seven years early. Symantec's Cecily Joseph, VP of Corporate Responsibility, was also a founding advisory board member of the Global Compact Network USA.
"Responsible businesses enact the same values and principles wherever they have a presence, and know that good practices in one area do not offset harm in another – they reinforce each other. By incorporating the Ten Principles of the UN Global Compact into strategies, policies and procedures, and establishing a culture of integrity, Symantec is not only upholding their basic responsibilities to people and planet, but also setting the stage for long-term success." – Adam Roy Gordon, Global Compact Network USA
We know that it is not enough to focus only on short-term profits. We've seen how natural disasters, social unrest and economic disparity can damage long-term prosperity for all of us. As such, we've aligned our core business capabilities with society's pressing needs and support the UN Sustainable Development Goals (SDGs). Adopted by world leaders in 2015, the SDGs are a blueprint to achieve a better and more sustainable future for all by 2030, with efforts to end all forms of poverty, fight inequalities and tackle climate change, while ensuring that no one is left behind.
Recruiting and training underserved populations in cyber security
Article 23 of the Universal Declaration of Human Rights includes the right to work, to just and favorable working conditions, and to equal and fair pay. In support of this article, SDG Goal 8 focuses on Decent Work and Economic Growth.
Roughly half the world's population still lives on the equivalent of about US$2 a day with global unemployment rates of 5.7 percent and having a job doesn't guarantee the ability to escape from poverty in many places. This slow and uneven progress requires us to rethink and retool our economic and social policies aimed at eradicating poverty.
According to Gordon, "Business leadership on Goal 8 can be achieved with investments in educating people so that they acquire the skills needed to provide productive labor, enter the formal sector work and remain employable in a changing labor market."
Four years ago, we piloted a new project to address an important social issue. We created the Symantec Cyber Career Connection (C3), in partnership with the Symantec Foundation, to address the significant shortage of qualified cyber security candidates and to help change the trajectory of the tech workforce—specifically for women, minorities, and veterans. Through the Symantec C3 program, we not only provide students with training in cyber security, but also offer employers access to a diverse and motivated talent pool.
Of our graduates, 71 percent are under-represented minorities in technology and 25 percent are female. Symantec C3 connects program graduates to decent work in entry-level cyber security positions: 82 percent of graduates are employed in cyber security or pursuing additional degrees within six months of graduation.
Promoting a low carbon future
Climate change is now affecting every country on every continent with the poorest and most vulnerable people being affected the most. Weather patterns are changing, sea levels are rising, weather events are becoming more extreme and greenhouse gas (GHG) emissions are now at their highest levels in history. 
We recognize the urgency with which society must collectively act to mitigate the threat of climate change and support SDG Goal 13: Climate Action. At Symantec, we continue to promote a low carbon future by reducing resource use across our operations, engaging our employees, and taking part in industry initiatives to transition to renewable clean energy.
In 2016, we set a goal to reduce our scope 1 and 2 GHG emissions to 30 percent below FY 2015 levels by 2025. By focusing investments on energy conservation and more efficient use of space, we achieved a 32 percent reduction in GHG emissions in just three years. After surpassing the goal earlier than anticipated, we are now working on a new scope 1 and 2 GHG emissions reduction goal, as well as our first scope 3 goal, in line with the Science-Based Target Initiative criteria.
"Now more than ever, we need the full participation of the business community to rally around the defining issue of our time: the climate challenge," says Gordon. "The consequences of climate change are already visible all around us, from more extreme weather to rising sea levels and diminishing Arctic sea ice — outcomes which often disproportionately affect vulnerable groups including young people, women and marginalized communities. The SDGs are necessarily interconnected and Climate Action is the most potent illustration of this interconnectedness."
We agree. Our employees, the communities we live and work in, and the planet matter. Our partnership with UNGC, membership in the Global Compact USA Network, and work on the SDGs helps ensure Symantec is a part of shaping a sustainable future.
To learn more about the UN Global Compact's best practice guidance, tools and trainings, visit https://www.unglobalcompact.org.
More From NortonLifeLock
Wednesday, February 24, 2021 - 12:30pm
Friday, February 19, 2021 - 12:05pm
Tuesday, February 9, 2021 - 4:15pm