Join 3BL Media at TripAdvisor HQ to Explore How Purpose-Driven Brands are Driving More Impact
Join 3BL Media at TripAdvisor HQ to Explore How Purpose-Driven Brands are Driving More Impact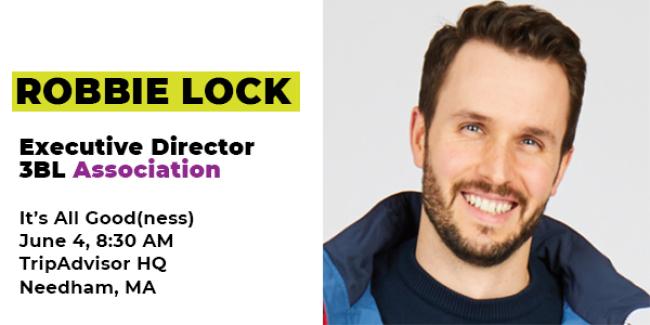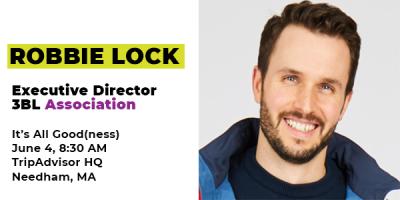 tweet me:
Join @robbie_lock, Executive Director of the 3BL Association, for a fast-paced morning of insights and trend analysis with #CR professionals and nonprofit leaders at @TripAdvisor HQ in Needham MA on June 4. http://bit.ly/2HlcFJA
Tuesday, May 14, 2019 - 2:20pm
NEEDHAM, Mass., May 14, 2019 /3BL Media/ - Robbie Lock will join corporate responsibility and nonprofit leaders from TripAdvisor, Benevity, International Institute of New England and many others to explore how employee expectations have shifted and why people want to work for purpose-driven companies.
The fast-paced and insightful event will be held at TripAdvisor's headquarters: 400 First Ave Needham, MA on Tuesday, June 4th from 8:30 a.m. 12:00 p.m. Register quickly - there are only 100 spots available!
"Corporate responsibility and sustainability are no longer 'nice to have' in your business," says Robbie Lock, Executive Director of the 3BL Association. "They are essential to strengthen your brand and workforce. I'm excited to join this diverse group to discuss how employee activism and engagement aligns with the brands taking stands movement.
Other speakers at the event include:
Kayla Mottola - Social Impact, TripAdvisor
Janelle Saunders - Area Vice President, Benevity
Alisha Collins - Director of Corporate and Community Engagement, Greater Boston Food Bank
Farron Levy - CEO, True Impact
Michelle DiSabato - President & Founder, Community Impact Consultants, Inc
Mark Giordono - VP of Development, FIRST
Elsa Gomes-Bondlow - Chief Development Officer, International Institute of New England
Andrea Spake - Community Relations Manager, International Institute of New England
Schedule:
8:30 a.m. - 9:00 a.m.
Hello, Coffee, and Light Breakfast 
9:00 a.m. - 10:45 a.m.
Trend Talks: Purpose & Impact 
10:45 a.m. - 11:15 a.m.
Community Partner Spotlight & Backpack Assembly!
11:15 a.m. - Noon
Catered Lunch & Q&A
Register today! Don't miss out on this lively morning full of invaluable insights and trend analysis from local leading corporate responsibility and nonprofit professionals.
Contact
Robbie Lock 
Executive Director, 3BL Association
+1.802.789.8257
More From 3BL Media, LLC
Thursday, May 28, 2020 - 8:00am
Thursday, May 21, 2020 - 8:50am