Jeremy Hance: From Bottleneck to Breakthrough
Jeremy Hance: From Bottleneck to Breakthrough
tweet me:
This wk's @SeaChangeRadio - "Jeremy Hance: From Bottleneck to Breakthrough" http://www.cchange.net/2019/03/12/bottle/ Journalist @Jeremy_Hance speaks with host @SweetAl about his @MongaBay series.
Multimedia from this Release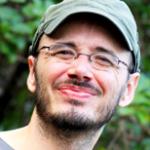 Thursday, March 14, 2019 - 2:45pm
How do you usually react to the stream of dire warnings about climate change and wildlife extinction? Does it motivate you to do more to make a difference, or does it submerge you into depressed inertia? This week on Sea Change Radio, we speak with environmental journalist Jeremy Hance about his ongoing series for Mongabay which shines an encouraging light on the  future of our planet's flora and fauna. Hance outlines the Bottleneck-to-Breakthrough theory and looks at the driving factors that may save our species and others from extinction. Who knew that earth science prognostications could actually serve as an antidote to climate change malaise?