Infographic: Explore Sappi North America's Innovative Casting and Release Business
Infographic: Explore Sappi North America's Innovative Casting and Release Business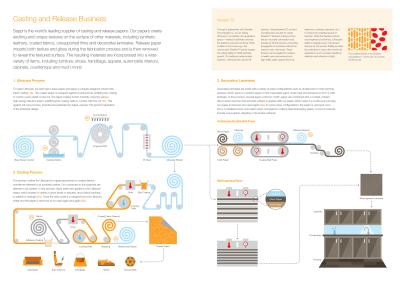 tweet me:
Check out this cool #infographic explaining @SappiNA's #casting and #release business: http://bit.ly/2uvzRRU
Tuesday, August 15, 2017 - 4:30pm
Sappi is the world's leading supplier of casting and release papers. Our papers create exciting and unique textures on the surface of other materials, including synthetic leathers, coated fabrics, unsupported films and decorative laminates. Release paper imparts both texture and gloss during the fabrication process and is then removed to reveal the textured surface. The resulting materials are incorporated into a wide variety of items, including furniture, shoes, handbags, apparel, automobile interiors, cabinets, countertops and much more! 
Read more from Sappi North America's 2016 Sustainability Report here: http://bit.ly/SNA-2016SR
More From Sappi North America
Tuesday, December 17, 2019 - 1:45pm
Thursday, December 12, 2019 - 2:30pm
Tuesday, December 3, 2019 - 4:15pm