How We're Working with Action for Children to Build Safe and Stable Homes for Children in the Care System
How We're Working with Action for Children to Build Safe and Stable Homes for Children in the Care System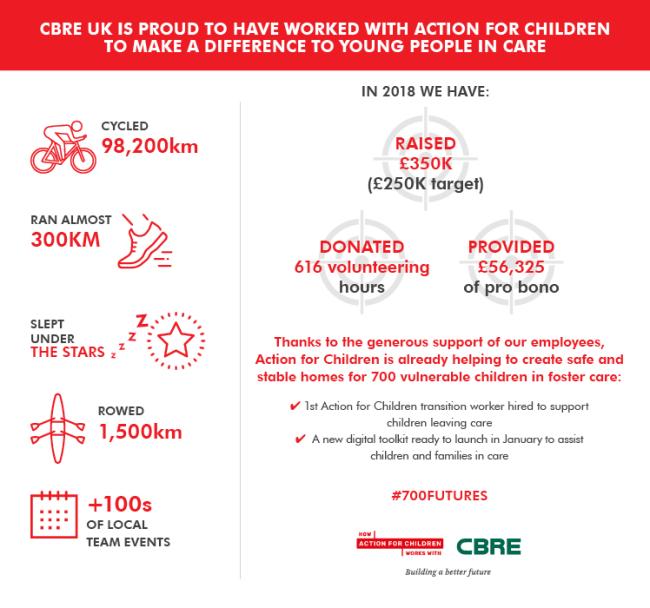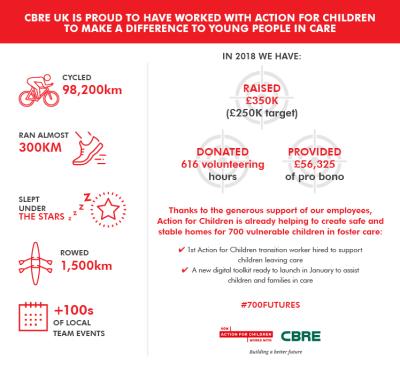 tweet me:
Infographic: How we're working with @actnforchildren to build safe and stable homes http://bit.ly/2Sj3UUR @CBRE_UK
Thursday, December 27, 2018 - 9:55am
Action for Children became CBRE's new UK charity partner, after a UK-wide vote in February 2018. Action for Children is a truly inspiring charity that helps thousands of disadvantaged children across the UK.
Over the next two years, our aim is to work with Action for Children to build, safe, stable homes for more than 700 children and their parents in the care system.
Our plan is to raise £500,000 by February 2020. These funds will help Action for Children to:
hire 5 specialist workers across the UK who will work directly with children transitioning from care into independent living.
digitalise a new advise booklet for children in care and a handbook for their foster parents. These tools will provide up to date information and help prevent placements from breaking down, ensuring children in care have the safe, stable and loving homes they deserve.
More From CBRE Group, Inc.
Tuesday, April 20, 2021 - 7:35am
Wednesday, March 10, 2021 - 1:25pm
Wednesday, February 24, 2021 - 1:50pm