How Does Workplace Giving Benefit Nonprofits?
How Does Workplace Giving Benefit Nonprofits?
Find out May 15th! Register now for this free webinar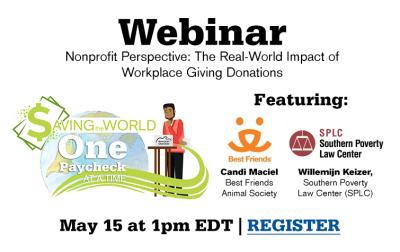 tweet me:
.@AmerCharities: How do #EmployeeGiving programs help #nonprofits address critical issues impacting the world around us? Get the nonprofit perspective on May 15th from @bestfriends and @SPLCenter! Register now: https://impact.ac/2MRCRO8 #ChangeStartsAtWork
Monday, May 6, 2019 - 5:00pm
Through America's Charities' "Saving the World One Paycheck at a Time" webinar series, we've spoken with a couple workplace giving campaign managers about the value of employee giving (watch recordings of those webinars here). Next, get the perspective from nonprofits who rely on recurring, sustainable funds generated from employee giving programs and see how they're using those donations to address critical issues impacting the world around us. 
Register now for America's Charities' FREE webinar on May 15th at 1:00 pm EDT!
Featuring representatives from America's Charities' nonprofit members - Candi Maciel, Corporate Engagement Manager at Best Friends Animal Society, and Willemijn Keizer, Director of Institutional Giving at the Southern Poverty Law Center (SPLC) - we'll discuss the following questions from the nonprofit perspective:
What would happen if employee giving programs didn't exist?
What real-world difference does it make when employees give through workplace giving programs as opposed to other fundraising methods like Facebook, GoFundMe, or Text2Give? 
What makes payroll deduction giving more beneficial to charities, employee donors, and employers as opposed to other donation payment methods like credit card, PayPal, and check?  
Through cross-sector efforts, how can we best showcase workplace giving to the public so it is valued as the vital mechanism for social impact that it is?
Beyond the benefits of workplace giving as a charity fundraising mechanism, how else does workplace giving help nonprofits and employers streamline and accomplish their social impact goals? How does it benefit employee donors?
Click here to learn more and register for our upcoming webinar on May 15th.  
More From America's Charities
Monday, December 7, 2020 - 4:45pm
Monday, December 7, 2020 - 4:00pm
Monday, November 30, 2020 - 5:45pm