Hormel Foods Hosts Three Student Winners of its Annual MLK Essay Contest
Hormel Foods Hosts Three Student Winners of its Annual MLK Essay Contest
Hormel Foods employees commemorate MLK Day and Black History Month with an essay competition for elementary and middle school students from across the country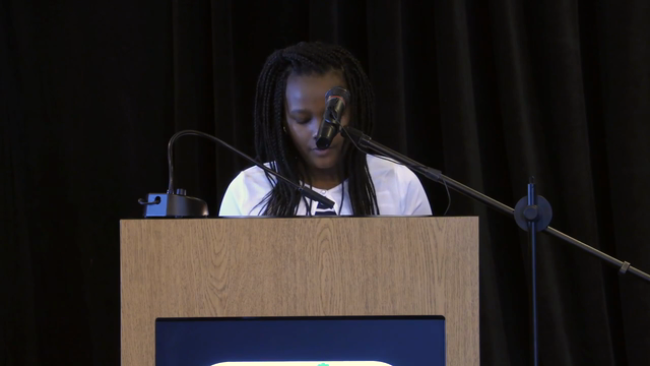 tweet me:
.@HormelFoods employees commemorated MLK Day and Black History Month with an essay competition for elementary and middle school students from across the country. Hear from the three winners on what Dr. Martin Luther King Jr.'s work means to them: http://bit.ly/2VW8vh8
Tuesday, March 12, 2019 - 12:30pm
March 12, 2019 /3BL Media/ - Three winners of the eighth annual Hormel Foods MLK essay contest visited the Hormel Foods corporate offices today to read their winning essays to company employees. The students – Patrick Brown from Little Rock, Ark., Blessyn Champ from Minneapolis, Minn., and Ben Kim from Atlanta, Ga. – claimed the top honors among hundreds of entries from 19 different schools this year. Their visit to the corporate office marks the second time the company has invited essay winners in for a reading.
The Hormel Foods African American employee resource group (HAARG) sponsors the essay competition for elementary and middle school students across the United States. Contestants are asked to write an essay with the theme, "What Dr. Martin Luther King Jr. Means to Me".
"We are proud to continue this contest for the eighth straight year and to help children across the country learn, interpret and personalize the messages of Dr. King and what it means to them," said Tommy Swearingen, HAARG president. "There are five winning essays chosen from each school, and today, three of our top-prize winning students were able to read their essays in front of our employees in Austin."
The competition promotes the value and importance of cultural differences and provides a platform for celebrating diversity. The goals of the program are to promote Dr. Martin Luther King's legacy, encourage children to aim high, give them exposure to minority professionals in corporate America and to create a lasting partnership between Hormel Foods and local schools. Elementary and middle schools across the country are invited to join the competition.
ABOUT HORMEL FOODS – INSPIRED PEOPLE. INSPIRED FOOD.™
Hormel Foods Corporation, based in Austin, Minn., is a global branded food company with over $9 billion in annual revenues across 75 countries worldwide. Its brands include SKIPPY®, SPAM®, Hormel® Natural Choice®, Applegate®, Justin's®, Columbus®, Wholly Guacamole®, Hormel® Black Label® and more than 30 other beloved brands. The company is a member of the S&P 500 Index and the S&P 500 Dividend Aristocrats, was named one of "The 100 Best Corporate Citizens" by Corporate Responsibility Magazine for the tenth year in a row, and has received numerous other awards and accolades for its corporate responsibility and community service efforts. In 2016, the company celebrated its 125th anniversary and announced its new vision for the future – Inspired People. Inspired Food.™ – focusing on its legacy of innovation. For more information, visit www.hormelfoods.com and https://csr.hormelfoods.com/.
More From Hormel Foods Corporation
Thursday, February 11, 2021 - 10:35am
Thursday, February 4, 2021 - 2:40pm