Here for Our Employees, Our Customers, Our Communities – and the Broader Economy – in These Unprecedented Times
Here for Our Employees, Our Customers, Our Communities – and the Broader Economy – in These Unprecedented Times
By Greg D. Carmichael | Chairman, President and CEO at Fifth Third Bank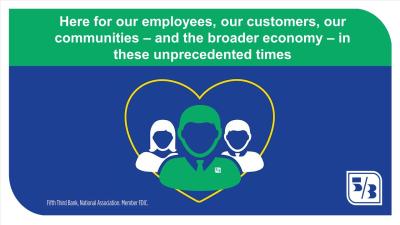 tweet me:
CEO Greg D. Carmichael shares how @FifthThird is supporting its employees, customers, the communities in which they live and work, and the broader economy in these unprecedented times https://bit.ly/39yqwZg #COVID19
Wednesday, April 1, 2020 - 1:05pm
Unprecedented is a word we hear every day as the pandemic continues to evolve. At this time of stress and uncertainty, many are looking to the government for help, but I firmly believe that businesses also have to rise to the occasion. We are working hard to respond with speed, decisiveness and the utmost care for our extended Fifth Third family.
Here is a summary of what we have put in place in the past weeks and days to support our employees, our customers, the communities in which we live and work, and the broader economy. As the situation evolves, we will continue to adapt and adjust our response.
Protecting the health and well-being of our Fifth Third employees, their families and our customers is our top priority. Following guidance from the Centers for Disease Control, we have implemented office social distancing measures where applicable. A large number of our employees now work remotely. We have limited in-person meetings to critical and essential needs, focusing on serving our customers and clients. We have also created additional benefits to cover our employees in these times of need. With all of the concerns about the coronavirus, one thing employees don't need to worry about is whether getting sick or needing to take care of ill family members will impact their pay. It won't.
"As always, our trusted bankers are just a phone call away for all of the people we serve."
For employees in our banking centers, where work from home is not feasible, we have taken extra measures to make our environment as safe as possible, increasing disinfecting efforts and limiting physical contacts to essential customer care by appointment only. In appreciation of the extraordinary service our customer-facing employees are providing, we also announced special payments of up to $1,000 to those working in our customer care and banking centers.
Just as we are focused on workplace safety, we are equally committed to serving our customers in the most responsible way. Retail and small business customers facing hardship related to COVID-19 have several options to help them through any difficulties they may experience. We are also actively helping commercial customers navigate this situation.
We understand that many small businesses are struggling. We are encouraging them to contact our team or the Small Business Administration. We are proactively taking steps to lessen the financial strain on small business owners by providing financial expertise, help them get access to capital and be part of the solution in rebuilding our economy and local communities.
"The times may be unprecedented, but our commitment is not. It's a commitment that has carried us through more than 162 years of challenges and opportunities."
In addition, we have adjusted our banking centers' service model, making drive-through our primary point of contact for simple transactions. The investments we have made in our digital tools – including online and mobile banking – as well our extensive network of fee-free ATMs, also offer easy and convenient ways for customers to conduct their banking needs.
And, as always, our trusted bankers are just a phone call away for all of the people we serve.
For our communities, which we have supported over the years in many small and big ways, we are committing $8.75 million in philanthropic funds to focus on relief, recovery and resilience efforts. These dedicated funds from the Fifth Third Foundation and the Fifth Third Chicagoland Foundation will be deployed to meet the immediate and long-term needs of the communities served by Fifth Third Bank, with special focus on the most vulnerable members of our communities who may be disproportionately affected by current events. As always, we will work in close coordination with community partners and non-profit organizations.
At the end of the day, what all stakeholders – including employees, customers, communities, and shareholders – want to know is how well the Bank is prepared. We are very confident that the actions we have taken over the last several years to improve our resiliency positions us well to face the situation. Our capital and liquidity positions are strong. We have the right strategies and a great team in place.
The times may be unprecedented, but our commitment is not. It's a commitment that has carried us through more than 162 years of challenges and opportunities, through recessions and depressions, a civil war, two World Wars and more. It's a commitment that will continue to carry us through in the days ahead as we navigate these unprecedented times together as a Fifth Third family.
More From Fifth Third Bancorp
Friday, May 29, 2020 - 10:35am
Wednesday, May 27, 2020 - 1:15pm
Tuesday, May 26, 2020 - 10:30am