Herbalife Nutrition Extends Partnership With National Hispanic Council on Aging Under The Nutrition for Zero Hunger Initiative
Herbalife Nutrition Extends Partnership With National Hispanic Council on Aging Under The Nutrition for Zero Hunger Initiative
Herbalife Nutrition partners with NHCOA to support nutrition and health programs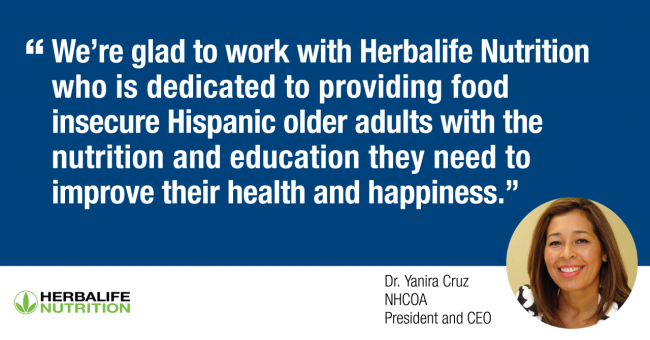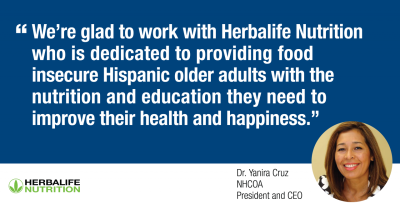 tweet me:
By 2060 the aging Hispanic population is expected to grow to 21.5 million, and more than 32% of the population lacks health insurance, economic & food security. #HerbalifeNutrition is working w/ #NHCOA to support their community w/ nutrition resources: https://bit.ly/3bZuJYC
Tuesday, September 15, 2020 - 12:40pm
Today, Herbalife Nutrition announced an expanded partnership with the National Hispanic Council on Aging (NHCOA), the leading organization working to improve the lives of older Hispanic adults, their families and caregivers. The partnership empowers the aging Hispanic population with necessary tools to support their health by providing access to healthy nutrition, as well as nutrition education and fitness programs to promote healthy aging. NHCOA joins Herbalife Nutrition's growing network of nonprofit organizations under its Nutrition for Zero Hunger (NFZH) initiative, further demonstrating the often-overlooked effects of hunger and malnutrition in different communities.
Read here about how Herbalife Nutrition is working with NHCOA on supporting their community with nutrition resources.
More From Herbalife Nutrition
Tuesday, September 22, 2020 - 12:40pm
Friday, September 11, 2020 - 3:35pm
Thursday, September 10, 2020 - 9:30am