HERproject Announces Five-Year Strategic Partnership With BESTSELLER
HERproject Announces Five-Year Strategic Partnership With BESTSELLER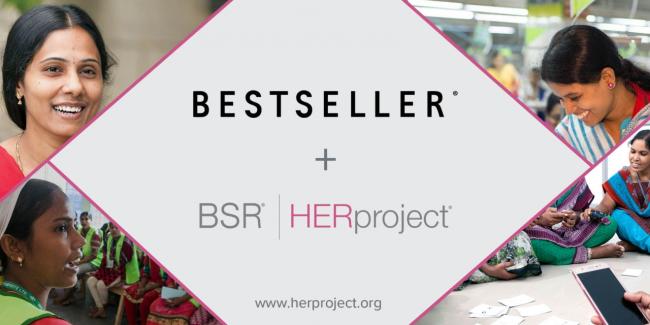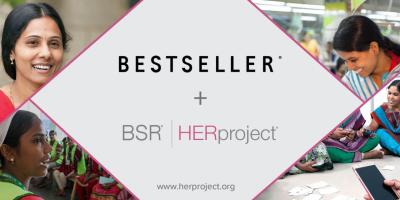 tweet me:
International fashion company BESTSELLER and @bsrherproject have signed a five-year partnership. Here's what that means for support and empowerment of women workers in the company's supply chain: http://bit.ly/2vrHuKk @bsrnews
Thursday, February 13, 2020 - 10:00am
NEWSROOM: BSR
CONTENT: Press Release
February 13, 2020 /3BL Media/ - Today, HERproject announces a new five-year strategic partnership with BESTSELLER, an international, family-owned fashion company with brands including JACK & JONES, VERO MODA, ONLY, and Name It. The aim of the strategic partnership is to accelerate BESTSELLER's 2025 Fashion FWD goal of supporting 100,000 women in garment factories to achieve workplace empowerment and improved life skills and to enable HERproject's goal to support 1.6 million women workers by 2022. Fashion FWD is BESTSELLER's strategy to speed up the transition to a sustainable fashion future.
BESTSELLER has partnered with HERproject since 2010 to empower women workers across its supply chain through workplace-based interventions on health, financial inclusion, and gender equality. To date, BESTSELLER's work with HERproject has reached more than 37,000 women in BESTSELLER's supply chain across Bangladesh, Cambodia, China, India, Pakistan, and Vietnam. Factoring in HERproject programs supported by other brands, the total number of women in BESTSELLER's supply chain reached by the program is just over 50,000.
BESTSELLER is also deepening its involvement with HERproject by becoming a Catalyst Member. HERproject Catalyst Members take a leading role in accelerating the impact of HERproject by providing strategic advice and thought leadership, engaging key suppliers as equal stakeholders in HERproject, and supporting the creation of tools and innovations.
Christine Svarer, Director, HERproject, said: "We are delighted that BESTSELLER is deepening its engagement with HERproject through a five-year strategic partnership and stepping up as Catalyst Member. Having already seen the benefits from BESTSELLER's work with HERproject, we welcome this new commitment to increase the wellbeing, confidence, and economic potential of even more women workers in its supply chain."
BESTSELLER's commitment comes as HERproject celebrates the major milestone of having reached over 1 million women workers, as well as 620,000 men workers, through its workplace-based interventions on health, financial inclusion, and gender equality.
Dorte Rye Olsen, Sustainability Manager, BESTSELLER, said: "The five-year partnership with BSR HERproject is a great step in the right direction for BESTSELLER in strengthening our efforts in women's empowerment and capacity building in the factories."
Originally appeared on BSR. 
More From BSR
Tuesday, March 17, 2020 - 12:15pm
Thursday, March 12, 2020 - 1:00pm
Wednesday, March 11, 2020 - 12:00pm