Good Eating
Good Eating
Creating special food for special needs keeps Tim Garry at the table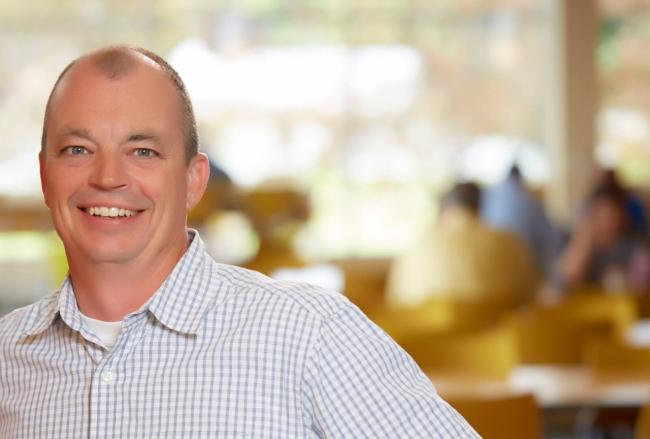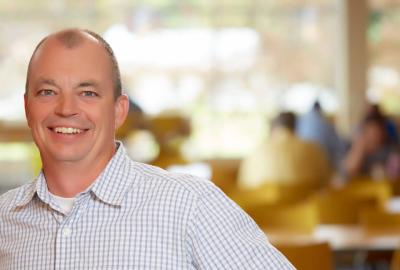 tweet me:
Creating special food for special needs keeps @HormelFoods' Tim Garry at the table http://bit.ly/2rfOioB @VitalCuisine
Thursday, May 31, 2018 - 10:30am
By Mary Burich
Wanting food to look appealing and taste good is a reasonable expectation. But for many people – those who suffer from cancer or a swallowing disorder known as dysphagia, for example – there are no guarantees. All of that is changing, however, thanks in part to Hormel Foods and people like Tim Garry.
Tim is part of Hormel Health Labs, where the mission is to provide nourishment for people with special dietary requirements. People who are often overlooked, he says.
"We want to know who eats our food and why. We want to understand what their lives are like, because they're different from everyone else," says Tim, a 17-year employee who manages the Thick and Easy® and Magic Cup® lines, as well as the Hormel Vital Cuisine®brand, food specially formulated for cancer patients.
Hormel Health Labs has been operating under the Hormel Foods umbrella for some 20 years, employing a team of food scientists, chefs and dietitians to create meals that meet the needs of consumers with health issues.
The company is not alone in wanting to help this segment of the population, though Tim says most of its competitors are from the pharmaceutical industry. Everyone wants to make sure consumers are properly nourished, but Hormel Health Labs approaches the challenge as a food company accustomed to working with consumers with high expectations. That makes a difference, he believes.
"We care about how it tastes, how it looks," Tim says. "Our pureed products are developed by the same chefs who are creating high-end meals."
That's no small thing for people who are already feeling disenfranchised as a result of their health, a fact that came to light during the development of the Hormel Vital Cuisine® brand. The line of easy-to-make high-protein shakes, meals and whey powders was developed in partnership with the Cancer Nutrition Consortium, where a leading oncology nutritionist and highly regarded chefs put their heads together to create recipes that would be appetizing to cancer patients, at the same time giving them much-needed nutrients.
Bridging the Gap Between Function and Flavor™
Tim is a registered dietitian who came to Hormel Foods in 2000 after seven years of working in long-term care. He joined Hormel Health Labs as a sales pro for enteral feedings and later accepted roles in marketing and Grocery Products. He's back with Hormel Health Labs, more committed than ever to the organization's mission.
Part of his connection stems from understanding "the emotional space that our products fall into." The realization came through the Hormel Vital Cuisine® brand development process, which he was involved with from the start. "We learned how emotionally hard it is when people aren't eating right." At the same time, one of Tim's family members was diagnosed with dementia, and that's when the issue "really hit home."
At his own dinner table, Tim began noticing not just what was being eaten but how it was being eaten. To wit: As dementia progresses, patients tend to handfeed themselves instead of using utensils. That got him thinking about how Hormel Health Labs could help. As a result, "we're looking at food products that will make their lives – and those of their caregivers – easier and more manageable," he says.
Hormel Health Labs' distribution channels are more robust than ever, and the company is becoming increasingly adept at selling to individuals, not merely the institutions that had traditionally served as its primary market.
"We've come a long way in offering a method of access to people at home. The website, for example, is front and center now," he says. "We get 40 to 50 orders a day just from the site. That's a lot of orders we never received before and many more people we are helping now."
The change reflects consumers' growing reliance on online shopping, as well as the development of healthcare.
"Because a lot of care is managed now outside of institutions, we need our products to be accessible," Tim says. "Our products are perfect for e-commerce."
Much of Tim's time at work is spent on product development and product management, including ensuring hundreds of labels have the very detailed information consumers are looking for. In addition, he's updated the Hormel Health Labs logo and is in the process of rebranding several items so they connect with consumers regardless of where they are in the healthcare-to-homecare cycle. Finally, there are trade shows; Tim manages six or seven of them a year.
"It's such an interesting company within Hormel Foods," he says. "It's so different from everything else that we do."
In this case, different is good.
"Someone could have had a stroke. That person may have played golf yesterday and now can't talk. When they find our food, they are so grateful."
More From Hormel Foods Corporation
Thursday, January 7, 2021 - 10:30am
Wednesday, December 30, 2020 - 8:00am
Wednesday, December 9, 2020 - 3:40pm