Gigi Berardi: Eating Well, Eating Wisely
Gigi Berardi: Eating Well, Eating Wisely
tweet me:
This week's @SeaChangeRadio - "Gigi Berardi: Eating Well, Eating Wisely" https://www.cchange.net/2019/12/10/gigi/
Multimedia from this Release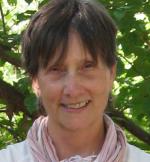 Wednesday, December 11, 2019 - 3:55pm
For many, along with all that good cheer, the holidays bring a bunch of food-related conundrums: what to bring to the pot luck, what to eat and not eat at the company party, what gifts to buy for our culinary-focused friends and family, and how to be ecologically responsible without compromising taste. This week on Sea Change Radio, we speak with a food expert who can help solve these holiday food puzzlers. Gigi Berardi is a professor of food studies and geography at Western Washington University. Her new book, FoodWISE lays out ways to make better decisions about what we eat. We discuss the differences between frozen and canned foods, take a look at "Big Organic," and examine how the food industry's misuse of the word "healthy" has warped its meaning.