General Mills Celebrates the Life of Dr. Martin Luther King Jr. at Annual Holiday Breakfast
General Mills Celebrates the Life of Dr. Martin Luther King Jr. at Annual Holiday Breakfast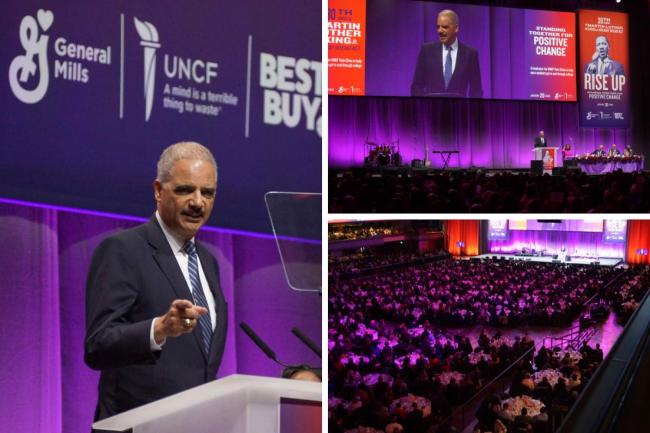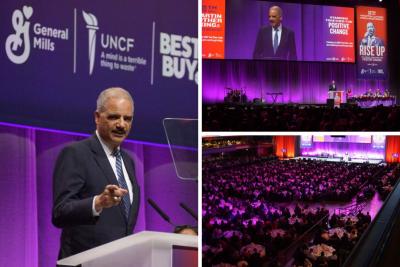 tweet me:
.@GeneralMills and @UNCF celebrate the life and legacy of #MLK at the 30th annual #MLKBreakfastMN http://bit.ly/2ulDpGR
Tuesday, January 21, 2020 - 4:30pm
A big crowd gathered yesterday in Minneapolis, Minnesota, for the 30th annual Dr. Martin Luther King Jr. Holiday Breakfast. The keynote this year was from Eric H. Holder Jr., former U.S. attorney general.
Organized in partnership by General Mills and United Negro College Fund (UNCF), the event's theme was "Rise Up: Standing Together for Positive Change."
In remembrance of Dr. King, a 1948 graduate of Morehouse College, which is part of the Historically Black Colleges and Universities (HBCU) network, proceeds from the event benefitted the MLK Scholarship Fund to provide college scholarships to deserving local students.
About UNCF
UNCF (the United Negro College Fund) is the nation's largest and most effective minority education organization. To serve youth, the community and the nation, UNCF supports students' education and development through scholarships and other programs, supports and strengthens its 37 member colleges and universities, and advocates for the importance of minority education and college readiness. UNCF institutions and other historically black colleges and universities are highly effective, awarding 21 percent of \African American baccalaureate degrees. UNCF administers more than 400 programs, including scholarship, internship and fellowship, mentoring, summer enrichment, and curriculum and faculty development programs. Today, UNCF supports more than 60,000 students at over 1,100 colleges and universities across the country. Its logo features the UNCF torch of leadership in education and its widely recognized trademark, "A mind is a terrible thing to waste."® Learn more at UNCF.org or for continuous updates and news, follow UNCF on Twitter at @UNCF.
About General Mills
General Mills is a leading global food company that serves the world by making food people love. Its brands include Cheerios, Annie's, Yoplait, Nature Valley, Häagen-Dazs, Betty Crocker, Pillsbury, Old El Paso, Wanchai Ferry, Yoki, BLUE and more. Headquartered in Minneapolis, Minnesota, USA, General Mills generated fiscal 2019 net sales of U.S. $16.9 billion. In addition, General Mills' share of non-consolidated joint venture net sales totaled U.S. $1.0 billion. For more information, visit GeneralMills.com and follow our A Taste of General Mills blog.
More From General Mills
Thursday, April 15, 2021 - 11:15am
Wednesday, April 7, 2021 - 10:30am
Tuesday, March 2, 2021 - 10:00am