Frank Carini on the State of the Ocean State
Frank Carini on the State of the Ocean State
tweet me:
This week's @SeaChangeRadio - ecoRINews founder Frank Carini talks about the effect of #climate change on the Southern New England region: http://www.cchange.net/2018/03/13/carini/
Multimedia from this Release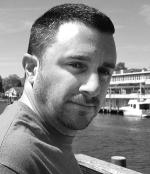 Wednesday, March 14, 2018 - 6:00pm
This week on Sea Change Radio, we focus on Southern New England and how climate change is affecting the region. We hear from Frank Carini, the co-founder of ecoRI News, a publication which recently came out with a special report on the topic. We discuss the often overlooked issue of rising incidents of Lyme Disease in the region and how they're connected to the warming atmosphere, how the livelihoods of local fisherman are being affected by changing oceans, and what cities like Providence, Rhode Island are doing to offset rising temps. Then, we re-visit our 2017 discussion with mission venture capitalist Joel Solomon as he expounds on the future of our collective economic well-being.
More From Sea Change Radio
Wednesday, December 4, 2019 - 12:10pm
Tuesday, November 26, 2019 - 4:15pm
Wednesday, November 13, 2019 - 9:00am