Energy Is No Longer A Cost Center: How Executives Can Use Efficiency to Future-Proof Business
Energy Is No Longer A Cost Center: How Executives Can Use Efficiency to Future-Proof Business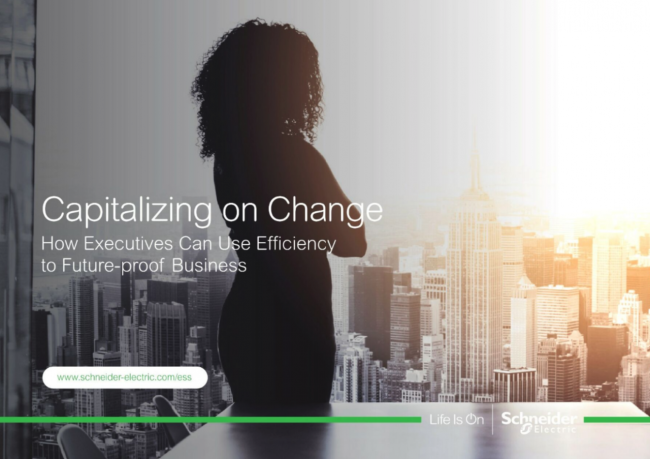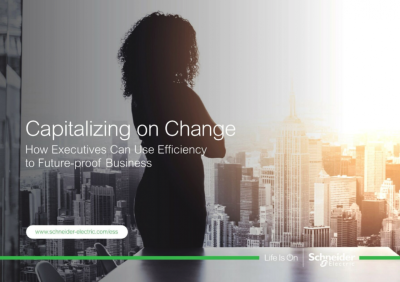 tweet me:
Download this eBook from @SchneiderElec to learn how executives can use energy efficiency and principles of #sustainability to future-proof their business. #LifeIsOn http://bit.ly/2WbiVty
Monday, April 29, 2019 - 11:10am
Businesses have long discounted energy as a fixed cost center, treating conservation measures as an expense-management lever. As a result, companies put a premium on short-term decisions with long-term carbon and cost impact. While this may have worked in the past, the global energy landscape is rapidly changing, and a new low-carbon economy is emerging. In the new energy paradigm, efficiency is becoming a strategic lever to future-proof business, and executives are taking notice. 
Already, 93 percent of global commercial and industrial companies have energy efficiency technologies in place. Meanwhile, adoption of combined heat and power (CHP) systems and battery storage increased at a similar rate to renewables: up 11 percent in 2019 from the previous year. These companies realize emissions are inextricably linked to energy consumption, which can be a major contributor to net corporate expenditure and a hurdle for low-carbon growth. In fact, a recent International Energy Agency study shows that efficiency improvements can yield up to 13.8 percent growth in annual profits. 
Overcoming Roadblocks to Enterprise-wide Efficiency
Despite the clear connection between efficiency and low-carbon growth, many global companies are struggling to take advantage. Complex organizational structures slow down the decision-making process and make it challenging to act holistically, creating long deployment cycles for what is often unsatisfactory returns. These challenges are exacerbated by inconsistent capabilities and expertise between sites, which can make it difficult and costly to scale results portfolio-wide. 
Here's a look at the top three roadblocks to unleashing efficiency globally:
1. Site versus corporate plans are not aligned
Many companies ask themselves, "How do we get from planning to action faster?" Manufacturing plants often have significant independence when it comes to energy management, which may produce results at the local level, but rarely is enough to reach corporate ambitions.
PRO TIP: Remember that one size does not fit all sites when it comes to implementing efficiency projects. Consider how sites may have more unique needs than what is reflected on a spreadsheet (e.g., local market and business context, people and culture). 
2. Traditional funding models limit progress
Evaluated on a project-by-project basis, capital efficiency projects with longer payback often fail to meet internal hurdle rate requirements. Even when capital becomes available, it's difficult to gain support internally due to competing priorities. When strategic, capex projects are not implemented in parallel with opex measures, companies often face a growing performance gap to corporate goals. 
PRO TIP: Build a business case for a portfolio of opportunities which can often create a new revenue stream that can be reinvested into the next big initiative. 
3. "Once and done" mindset doesn't deliver
Collaborating with local teams is key to ensuring efficiency gains are sustained over time. Without oversight, opportunities are often missed, making it difficult and costly to scale the global energy program portfolio-wide.
PRO TIP: It takes time to design, implement and fine-tune a pilot. Make it stick by using policies to enforce best practices and efficiencies consistently across geographies, business units or brands. Encourage champions at the site level to help drive change locally.  
In the face of continuous disruption, global companies must learn how to not only embrace change, but also to make it work for them. When it comes to successful energy efficiency initiatives, intentional change management makes all the difference. 
If these challenges sound familiar, the good news is you're not alone. In our new eBook, explore true stories and more pro-tips from companies that have tackled these organizational roadblocks to achieve long-lasting change with efficiency programs.
Download the eBook to learn more.
More From Schneider Electric
Friday, May 29, 2020 - 1:35pm
Thursday, May 28, 2020 - 4:25pm
Tuesday, May 26, 2020 - 5:25pm