Edison International 2018 Sustainability Report: 2018 Community Investments
Edison International 2018 Sustainability Report: 2018 Community Investments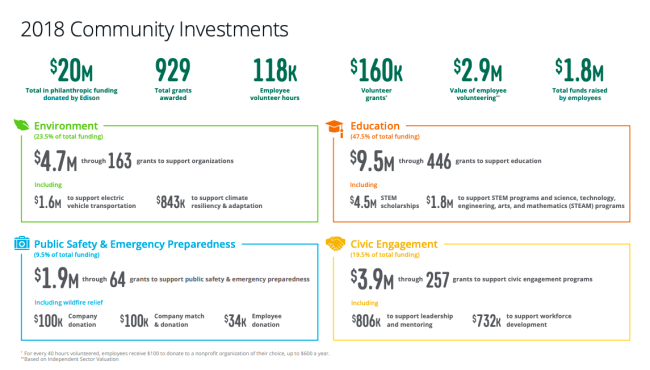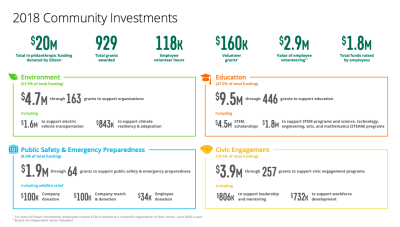 tweet me:
Did you know @SCE is one of the largest corporate charitable contributors in Southern California? Learn about their community investment initiatives in @EdisonIntl's 2018 #Sustainability Report. http://bit.ly/2FDXlaV
Thursday, June 27, 2019 - 4:30pm
Community Investment
We partner with local nonprofits to brighten our communities, invest in the future, and build a better tomorrow. Today, Edison International is one of the largest corporate charitable contributors in Southern California. In 2018, Edison International donated $20 million in philanthropic funding, with nearly 90% of donations supporting underserved communities. Charitable contributions are funded entirely by shareholder dollars, not by customers.
Recently, we have been shifting our charitable contributions to better align with our business strategy. We're partnering with key nonprofits to help customers make clean energy choices, drive EVs, preserve the environment, and learn more about wildfire preparedness and community resiliency. In addition to our financial contributions, we encourage employee volunteerism and engagement with nonprofits. 
2018 Edison Scholars: Supporting Tomorrow's Leaders
Edison Scholars recognizes students who want to be makers of tomorrow — dreamers, inventors, guardians, and pioneers — and those who dare to be great. Each year, Edison International awards $40,000 scholarships to 30 high school seniors who want to make a difference in the world by studying STEM in college. The program, which is open to all with an emphasis on underrepresented and low-income students, supports the future innovators who will help transform our industry and society in the years to come.
Since 2006 through program year 2018, we have awarded more than $8.7 million in scholarships to 610 Edison Scholars. Read the stories of some of the Edison Scholars we have supported. "It's such a great feeling to go to college with one less thing on my mind. This scholarship has given me the confidence to pursue STEM and I am so grateful." Connie Lee, UCLA – Chemistry
Read more about Edison International's other community investment initiatives in their 2018 Sustainability Report. 
More From Edison International
Wednesday, October 14, 2020 - 10:00am
Monday, October 12, 2020 - 8:55am
Wednesday, September 16, 2020 - 9:25am