Early Bird Pricing for Living Future 19
Early Bird Pricing for Living Future 19
The industry's leading event in regenerative design at a great price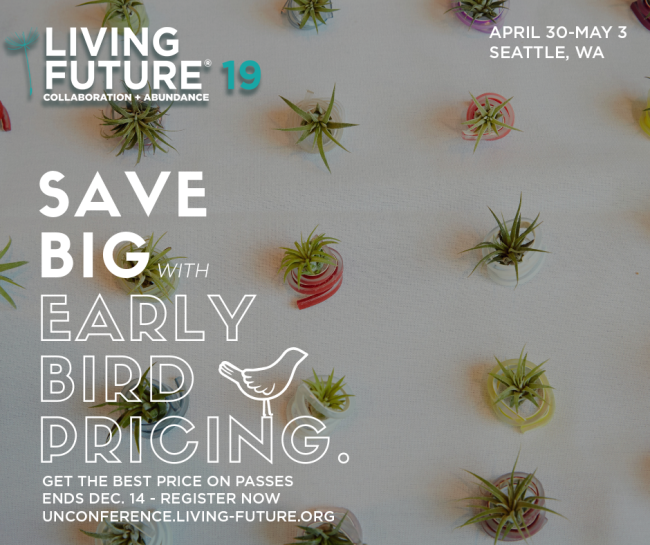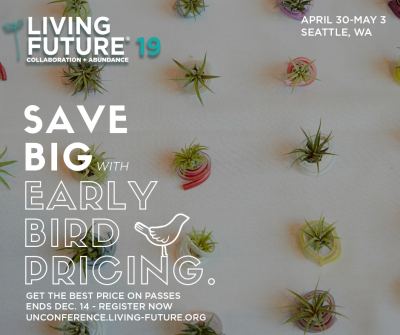 tweet me:
Collaboration + Abundance are just around the corner in 2019. #LivingFuture19 prices go up Dec 15, register now! The leading event in regenerative design is where you need to be. Full program: http://bit.ly/LF2019 #lf19 #livingfuture #greenbuilding #sustainability #zerocarbon
Tuesday, December 11, 2018 - 12:00pm
Celebrate innovation with the International Living Future Institute at Living Future 2019 in Seattle, Washington, from April 30-May 3. Register before December 14, 11:59 PM PST, and take $150 off your ticket for this year's conference highlighting Collaboration + Abundance. Prices go up after midnight and will not be this low again.
Attendees will enjoy unique and out-of-the-ordinary sessions, listen to inspiring keynote speakers Bill McKibben, Mustafa Santiago Ali, and Mary Robinson, and gather with a global community of changemakers in regenerative design. LF19 is where big ideas gain momentum; join the movement today!
To register and to learn more about the conference, speakers, and sessions, visit unconference.living-future.org. Let us know when you've registered by using the hashtag #LF19!