Cyber is Not For You Because You Are a Mom
Cyber is Not For You Because You Are a Mom
Cyber warrior Avneet Hall reduces cyber threats while smashing glass ceilings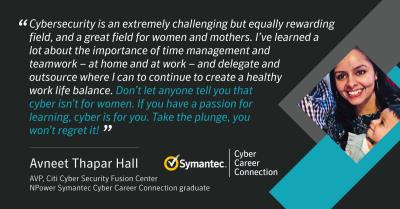 tweet me:
.@Symantec is proud to work with nonprofit educational partners like @NPowerOrg in its @SymantecC3 program to bring fabulous candidates like Avneet into the #cybersecurity field http://bit.ly/2mpcAhF
Thursday, October 3, 2019 - 11:05am
By Avneet Hall, Symantec Cyber Career Connection Graduate
One of the first things I heard as I began my career in cybersecurity was, "Cyber is not for you because you're a mom." I was also told, "You'll never see your kids." As a first time mother of a six-week old baby, I had doubts about starting my cyber career. But, I thought about all of the women and mothers who are doctors, surgeons, and military commanders and decided, if they can do those jobs, I'm sure I can do this one.
Leaving a stagnant career in the non-profit field was also a difficult choice, but I knew that I needed a change. As a teenager growing up in India in the 90s, I learned to program during the IT boom. I knew how to code and had plenty of soft skills from my policy work, but was a recent immigrant to America and did not have a college degree.
I needed additional tech skills and credentials and found NPower, a digital education and career skills training organization and one of Symantec's nonprofit partners. I became more confident in my skills during NPower's Tech Fundamentals course and learned about Symantec Cyber Career Connection (Symantec C3), a competitive, 26-week condensed cyber fundamentals program with guest lectures from the best in the field.
I had recently become pregnant and was told by my classmates that I should rethink pursuing a demanding career in cybersecurity. My husband was completing an MBA and working full time, and we knew we would need to sacrifice to make this happen for our baby and our family. He was really supportive and I was really determined, and I filled out the application for Symantec C3 when my baby was two weeks old.
Fighting my doubts was hard, but I maintained a clear focus on my goal. I worked really hard in my classes and enjoyed the process even more than I thought I would. I was our class speaker and one of the first to pass the new CompTIA CySA+ exam. I was most excited about risk management and knew I wanted to work to reduce the threat landscape and protect companies from cyber attacks. The Symantec C3 program includes an internship, and I worked at Citi in vulnerability assessment, learning about static analysis and the rigorous risk process all applications go through.
In truth, it was a challenging time for my family, but it paid off in a big way. Every recruiter and hiring manager I spoke to was amazed to hear the different certifications and hands-on training the program provided. The program helped me secure an excellent full-time position as a Core Intelligence Senior Analyst and Assistant Vice President at Citi.
Cybersecurity is an extremely challenging but equally rewarding field, and a great field for women and mothers. I've learned a lot about the importance of time management and teamwork – at home and at work – and delegate and outsource where I can to continue to create a healthy work life balance. Today, I have a happy, thriving baby and a career that I love, and one I hope she will be proud of.
Don't let anyone tell you that cyber isn't for women. If you have a passion for learning, cyber is for you. Take the plunge, you won't regret it!
Symantec is proud to work with nonprofit educational partners to help prepare the workforce of tomorrow. Learn more about Symantec Cyber Career Connection and get involved – as an aspiring cyber professional, intern host, or hiring partner, at www.symantec.com/about/corporate-responsibility/your-information/cyber-career-connection