Crystal Kolden: Prepping for Wildfire Season
Crystal Kolden: Prepping for Wildfire Season
tweet me:
This week's @SeaChangeRadio - "Crystal Kolden: Prepping For Wildfire Season" https://www.cchange.net/2021/06/08/wildfire/
Multimedia from this Release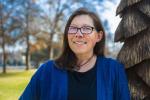 Wednesday, June 9, 2021 - 2:45pm
Yes, there will be millions of collective sighs as the deadliest pandemic in a century begins to abate and a more open summer kicks off. But summer also means the beginning of the wildfire season in the American West – a slew of deadly disasters lying in wait. Last year was the worst fire season in California's recorded history and drought-like conditions portend another challenging summer. This week on Sea Change Radio, we speak to Professor Crystal Kolden of the University of California Merced, a wildfire expert and former firefighter. We talk about current preparations for impending fires, where she believes resources should be directed, and the ethical dilemma presented by California's reliance on inmate firefighters.