Climate-risk Awareness Rises Among Corporations, Says New Report
Climate-risk Awareness Rises Among Corporations, Says New Report
12th annual "State of Green Business" reveals growing understanding of how sustainability issues help and hinder profits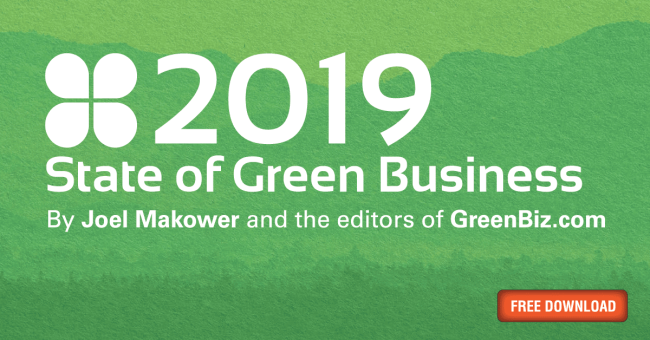 tweet me:
.@GreenBiz & @trucost release 2019 State of Green Business report assessing how much companies are moving the needle on the most pressing environmental challenges — plus, 10 key trends & 30 metrics to watch for 2019. Download the free report here: http://bit.ly/2G9hCan
Tuesday, February 5, 2019 - 6:00am
NEWSROOM: GreenBiz
CONTENT: Press Release
OAKLAND, Calif. and LONDON, February 5, 2019 /3BL Media/ - A rising tide of companies around the world are waking up to the challenges and opportunities presented by climate change and other environmental issues, according to a new report from Trucost, part of S&P Global, and GreenBiz Group.
According to the 2019 State of Green Business report, recent years have shown a sharp increase in the number of companies reporting customer-driven risks relating to climate change. That points to growing awareness of the impacts of product manufacturing and use and as well as the impacts of those products at the end of their useful lives.
At the same time, a large number of companies are recognizing opportunities to capitalize on goods and services that minimize negative environmental impacts or that have a positive influence on mitigating climate change or increasing water conservation, among other issues.
The annual report, the 12th annual, identifies key trends in corporate sustainability and assesses more than 30 metrics on the progress, or lack thereof, of the world's largest companies in addressing their environmental impacts. The report is based on environmental performance data for both the S&P 500 index of U.S. companies and the S&P Global 1200, together covering approximately 70 percent of global market capitalization.
One key theme of this year's report is the growing attention to climate and sustainability issues by the world's largest institutional investors.
"The financial community is mobilizing," noted Dr. Richard Mattison, Chief Executive Officer of Trucost. He points to the Task Force on Climate-Related Financial Disclosures, which aims to help investors, lenders and insurance underwriters appropriately assess and price climate-related risks and opportunities.
"TCFD is supported by eight of the 10 largest asset managers, three-quarters of the global systemically important banks, all the major credit rating agencies and many large pension funds," said Mattison. "Investors increasingly want to understand how companies are using future carbon pricing scenarios to mitigate risk and direct capital to innovations that will succeed in the transition to a low-carbon economy."
According to the report, 80 percent of companies now report exposure to physical or market transition risks associated with climate change, and a similar share engaging in reducing corporate emissions. There has been a steady growth in the number of companies applying an internal carbon price, and that price has been rising.
"We have reached a turning point in corporate sustainability, from assessing companies' impacts on climate change and other environmental issues, to understanding the impacts of climate and environmental issues on companies' operations and profits," said Joel Makower, Chairman and Executive Editor of GreenBiz Group. "And the world's largest investors are seeing that, too, pressing companies to better understand and disclose these risks, a trend that will only grow in the coming years."
The report also identifies 10 sustainability trends that will be affecting companies in the coming years. They include growing awareness of topsoil as a key tool for sequestering greenhouse gases, a rise in corporate action to stem deforestation, the rapidly expanding markets for electric trucks and buses, the rise of green finance instruments that lower the cost of capital for some companies, and the resurgence of reusable packaging and products in place of disposable ones.
The free report can be downloaded here: http://bit.ly/2G9hCan.
About GreenBiz Group
GreenBiz Group is the leading media and events company at the intersection of business, sustainability and innovation. Through its media, events, research and membership network, GreenBiz Group drives transformation and accelerates progress — within companies, industries and in the very nature of business. Learn more at http://www.greenbiz.com.
About Trucost S&P Global
Trucost is part of S&P Global. A leader in carbon and environmental data and risk analysis, Trucost assesses risks relating to climate change, natural resource constraints and broader environmental, social and governance factors. Companies and financial institutions use Trucost intelligence to understand their ESG exposure to these factors, inform­ resilience and identify transformative solutions for a more sustainable global economy. S&P Global's commitment to environmental analysis and product innovation allows us to deliver essential ESG investment-related information to the global marketplace. For more information, visit http://www.trucost.com.
About S&P Global
S&P Global (NYSE: SPGI) is a leading provider of transparent and independent ratings, benchmarks, analytics and data to the capital and commodity markets worldwide. For more information, visit http://www.spglobal.com.
More From GreenBiz
Monday, September 16, 2019 - 8:00am
Wednesday, September 4, 2019 - 8:00am
Monday, June 10, 2019 - 7:00am