Clean Energy to Power Us All.
Clean Energy to Power Us All.
Hydro-Québec, a world leader in hydropower generation, publishes its Sustainability Report 2018.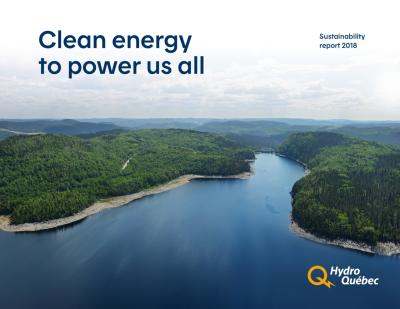 tweet me:
.@hydroquebec publishes their 2018 #Sustainability Report, highlighting their commitment to promoting #SustainableDevelopment in all their activities http://bit.ly/2H28ymY via @ReportAlert
Monday, May 6, 2019 - 4:00am
May 6, 2019 - The company generates, transmits and distributes electricity to more than 4 million customers in the province of Québec. It also exports its clean, renewable power and commercializes its unique expertise and innovations on world markets. Hydro-Québec carries out its activities in a spirit of sustainable development, and its sustainability vision goes well beyond the environment. The company contributes to the province's economic vitality and encourages stakeholders to participate in its decisions. Hydro-Québec is leading the energy revolution.
2018 highlights:
99.8% – Hydro-Québec's energy portfolio comprises mainly renewable energies: 99.8% hydropower generated by the company, as well as purchased hydro, wind, solar and biomass energy.
7.9 million metric tons – Thanks to Hydro-Québec's exports, 7.9 million metric tons of greenhouse gas emissions (GHG) were avoided. These avoided emissions were 21 times greater than the company's direct emissions for the same period. Our GHG emissions have fallen by over 90% since 1990.
36.1 TWh –Thanks to an effective sales strategy, smooth operation of our generating and transmission facilities and high runoff, our net electricity exports reached a historic volume of 36.1 TWh and contributed $744 million, or 23%, of the company's net income.
$148 million in R&D – Innovation is at the core of Hydro-Québec's activities. With a budget of $116 million, our research institute, IREQ, develops state-of-the-art technologies in numerous fields related to power systems and renewable energy. Our new Center of Excellence in Transportation Electrification and Energy Storage, which has a budget of $32 million, is focused on advanced lithium-ion and solid-state batteries.
60% ­– Proportion of women on the board of directors – The company is changing, and there are more and more women in executive positions. On December 31, 2018, they accounted for 60% of the Board of Directors and 24% of the company's executives.
A $4.5-billion contribution to the Québec government's revenue – Hydro-Québec's operations support thousands of jobs and stimulate economic activity in many Québec regions. All together, they account for about 4% of Québec's gross domestic product (GDP). A total of $2.39 billion was paid to its shareholder, the Québec government, in the form of a dividend, and 91% of its goods and services were purchased in Québec.
The Sustainability Report 2018 is the seventeenth such report produced by Hydro-Québec.
For more information, do not hesitate to contact us.
More From 3BL Alerts
Monday, October 19, 2020 - 2:00pm
Wednesday, September 30, 2020 - 4:00am
Tuesday, September 29, 2020 - 2:00pm