Ceres Welcomes Next Round of New Executive Actions on the Climate Crisis
Ceres Welcomes Next Round of New Executive Actions on the Climate Crisis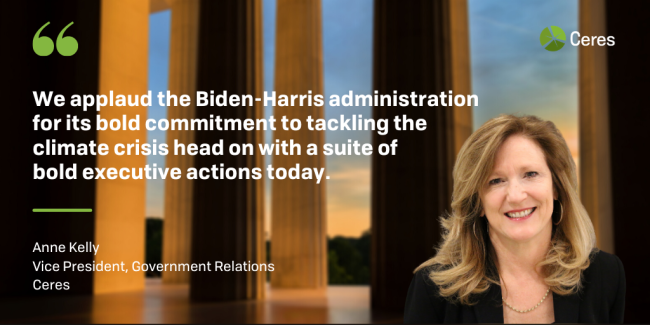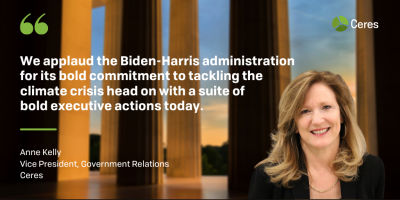 tweet me:
Ceres welcomes next round of new executive actions on the climate crisis https://bit.ly/3a711jP
Wednesday, January 27, 2021 - 1:35pm
President Biden announced a suite of executive actions today aimed at scaling U.S. efforts to tackle the climate crisis. The actions include directives to elevate climate change to a national security priority, develop an action plan for reducing greenhouse gas emissions throughout the government, create several new positions within the government focused on environmental justice, explore a potential ban on new oil and gas leasing on federal land, and expand conservation of federal land and water. 
"We applaud the Biden-Harris administration for its bold commitment to tackling the climate crisis head on with a suite of bold executive actions today. The climate crisis impacts all facets of our lives and livelihoods—from the economy to our national security and the health and safety of our communities. We could not agree more with Biden's action to classify the climate crisis as a national security issue. We welcome the newly formed National Climate Task Force as part of the administration's promise to bring back climate science and integrity to the White House. This broad group of skilled advisors can drive new clean job growth and deliver an ambitious climate action plan with environmental justice at its center. The development of a Climate and Environmental Justice Screening Tool is critical to ensuring environmental justice communities are at the center of the federal government's climate plan. We look forward to the Leaders' Climate Summit on Earth Day, and the opportunity to restore our commitment to the Paris Agreement and our standing in the world as a climate leader. Investors, companies and states across the country continue to ratchet up their commitment to climate action, and now it's time to build on that momentum with Biden's plan for developing a U.S. 'nationally determined contribution' to reduce our nation's emissions." –Anne Kelly, vice president of government relations at Ceres. 
Ceres is a sustainability nonprofit organization working with the most influential investors and companies to build leadership and drive solutions throughout the economy. For more information, visit ceres.org and follow @CeresNews.